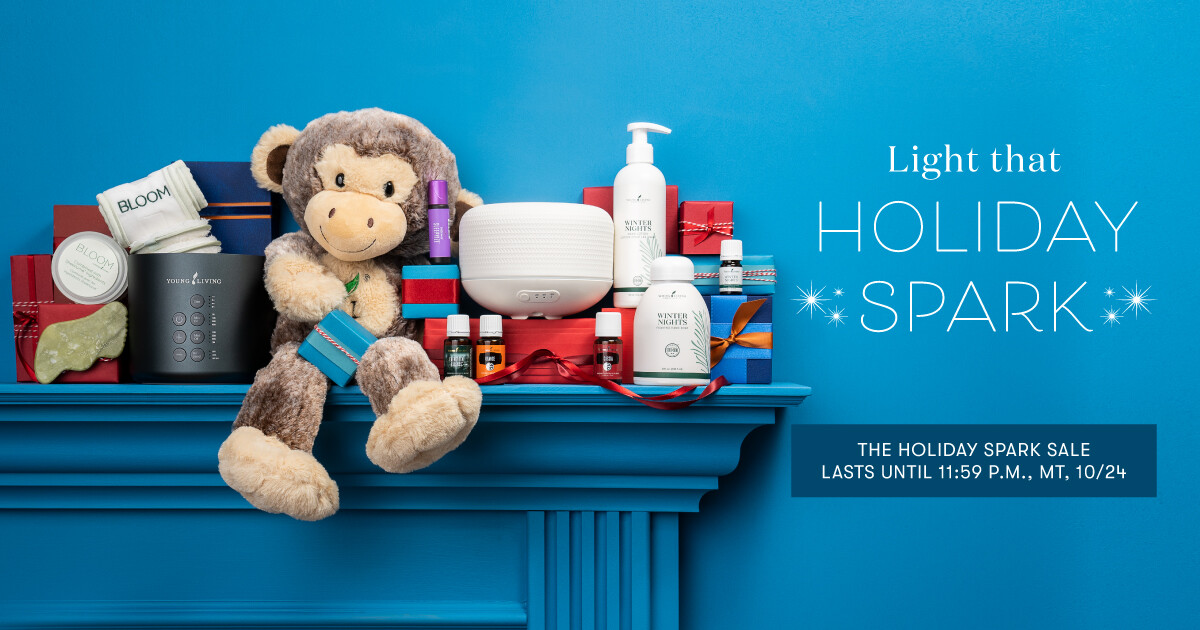 It's our favorite time of year! Our holiday
Spark
Sale is here!!!
Get your Christmas Wish List ready and start saving tomorrow
morning
at 9AM Mountain Time!
OH, and you'll get a FREE GIFT with every order - a free pack of AromaEase Aroma Rings!
Details for the United States Market
1) Find gifts for everyone on your list—from teachers and neighbors to family and friends. Choose from exclusive offers like the - new, limited-time Duet Diffuser, the relaunched Simplified by Jacob + Kait Fall Collection, and savings on specially curated holiday essentials sure to inspire wellness all year long.
2) This offer is available from 9AM Mountain Time on Monday, October 17, through 11:59PM Mountain Time on Monday, October 24.
3) Brand Partners and Customers in the U.S. market may participate.
4) This offer is available on one-time orders only, while quantities last.
5) Discount applies to price and PV.
6) Stock up with no order limits!
Items And Prices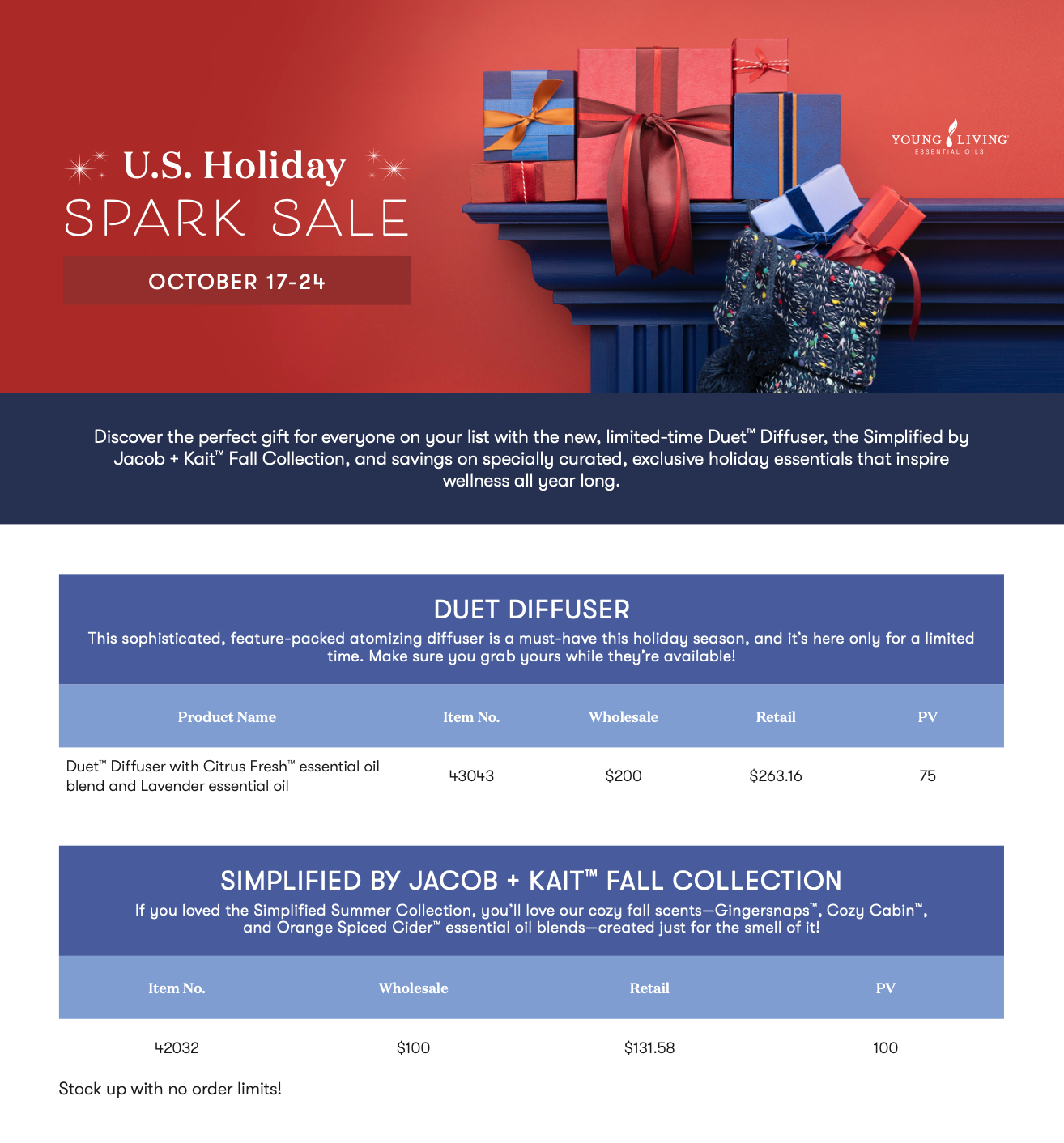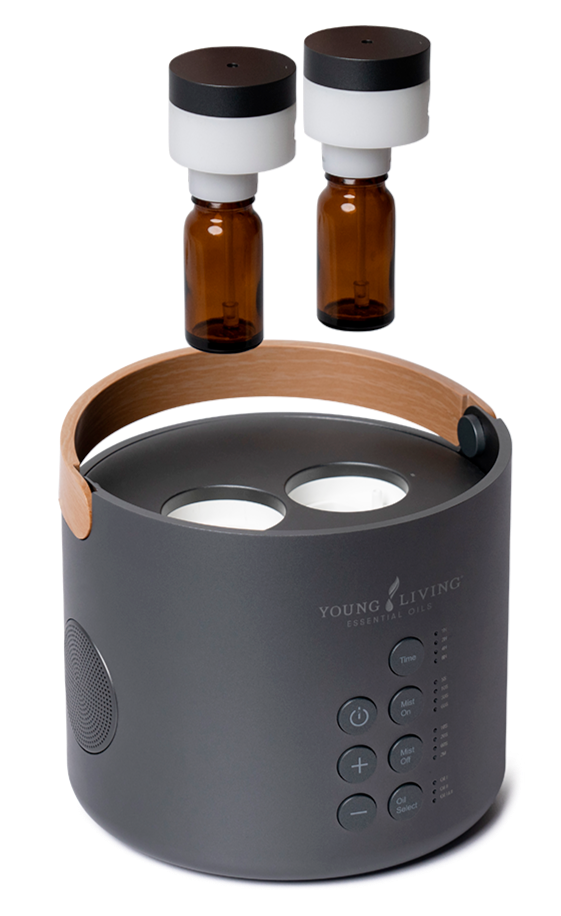 NEW Duet Diffuser with Citrus Fresh essential oil blend and Lavender Essential Oil
This sleek diffuser functions as an aroma diffuser, air purifier, and atomizer in one simple-to-use product. Its atomizing technology transforms essential oils into a vapor of millions of microparticles, dispersing them into the air and releasing the powerful plant constituents found in Young Living essential oils.
With the Duet Diffuser, you can customize how much essential oil you'd like to use by setting customizable diffusion times, automatic shutoff, and flexible bottle size options in 5 ml, 10 ml, or 15 ml. To maximize one particular essential oil, you can connect two bottles of the same oil to both pumps.
It has bluetooth so you can listen to music!
This is A MUST HAVVVEEEE for targeted support.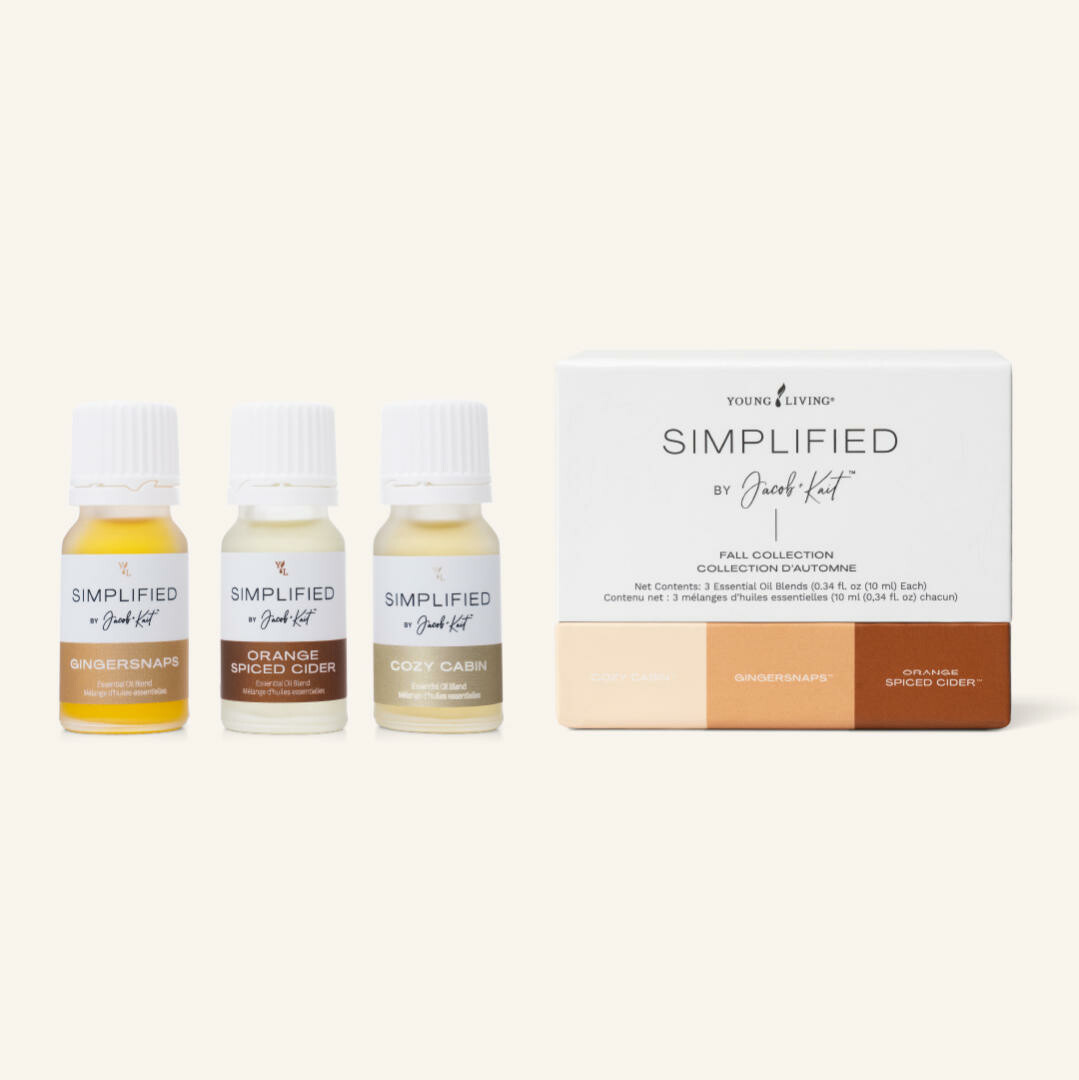 Simplified By Jacob+Kait™ - Fall Collection
It sold out twice in less than a day and it's back for one more run!
Three GORGEOUS Fall blends (gimme ALL the pumpkin spice vibes!!!) that are already curated for you! There's no need to blend multiple oils to get your home smelling like the magic of autumn with cozy sweaters, cooler temps, spiced cider or ginger cookies!! Just pop these in your diffuser and you're done!
This is the perfect way to swap out harsh chemicals in candles or plug-ins for clean and safe plant alternatives.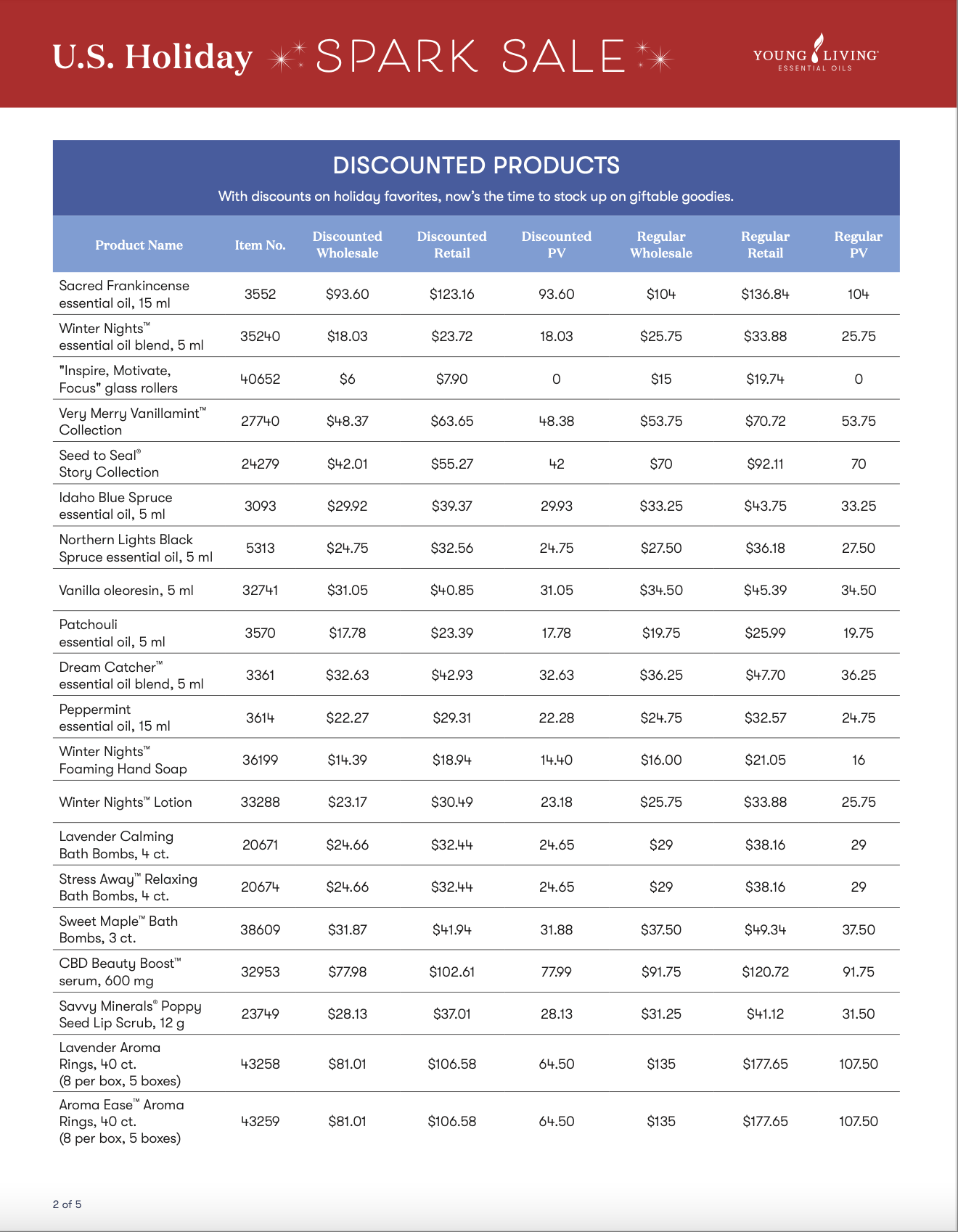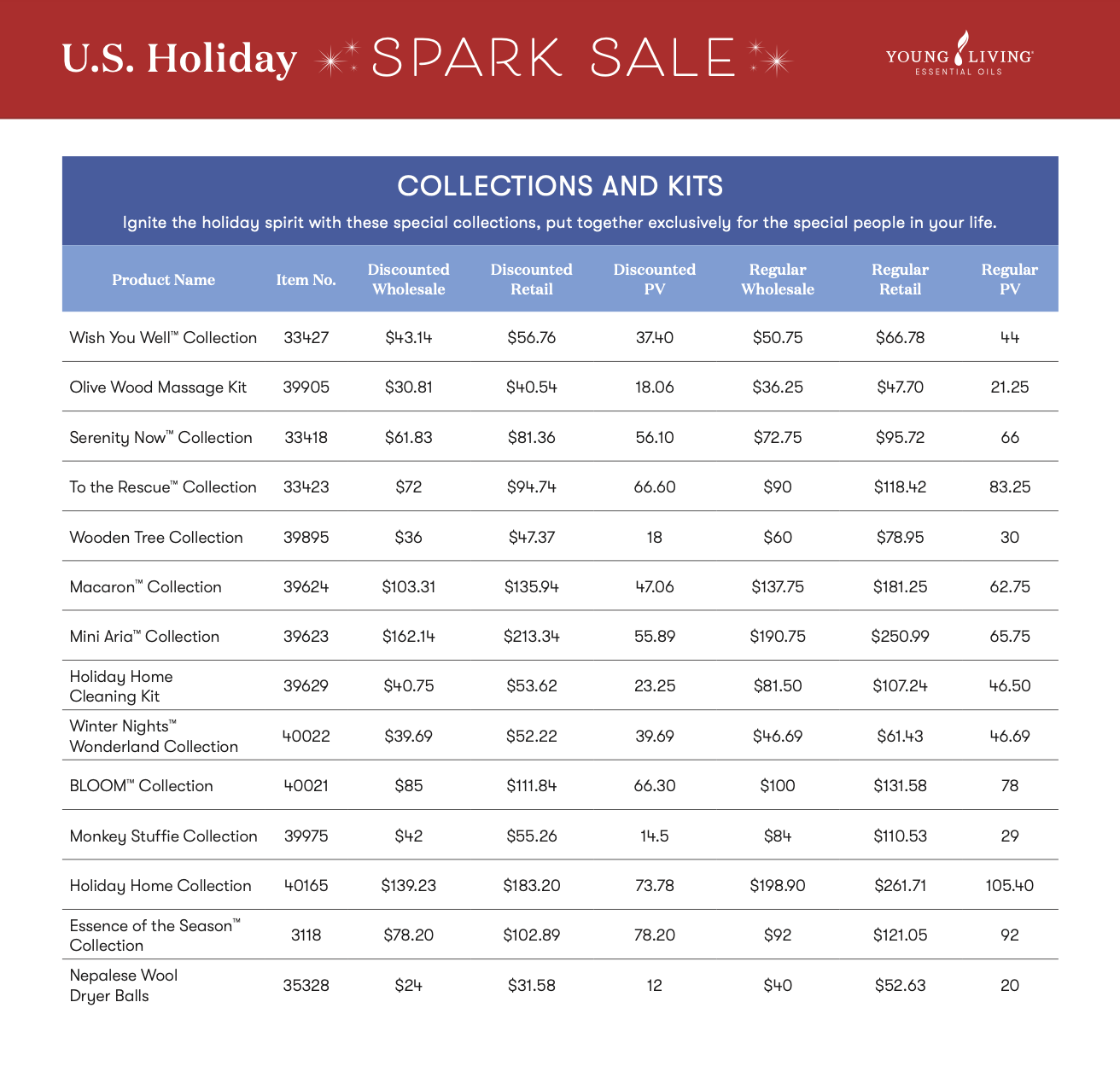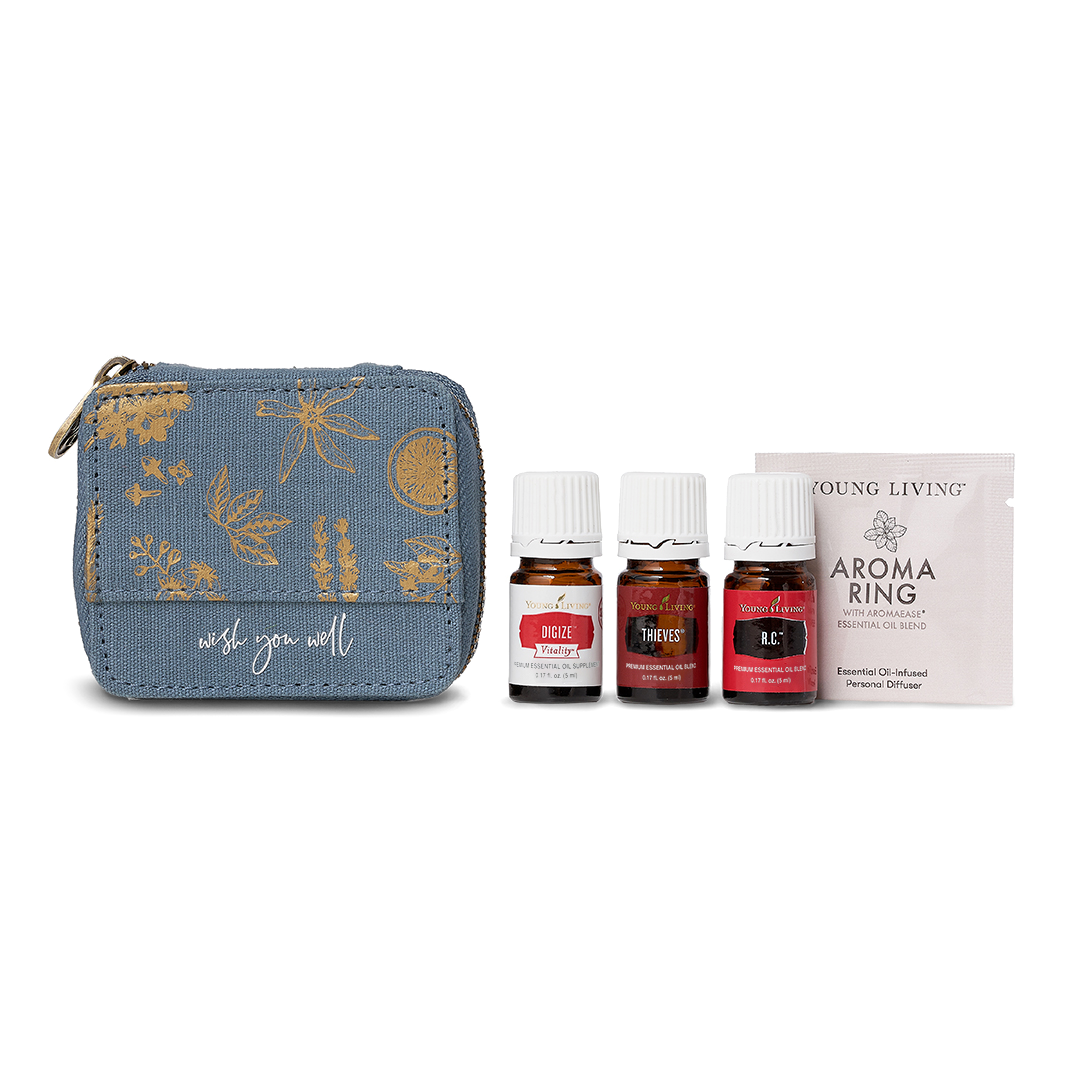 WISH YOU WELL COLLECTION
• Digize Vitality, 5 ml
• R.C., 5 ml
• Thieves, 5 ml
• Aroma Ring with AromaEase
• Travel zipper pouch
SALE PRICE $43.15 (Originally 57.45) | $37.40 PV
Item #33427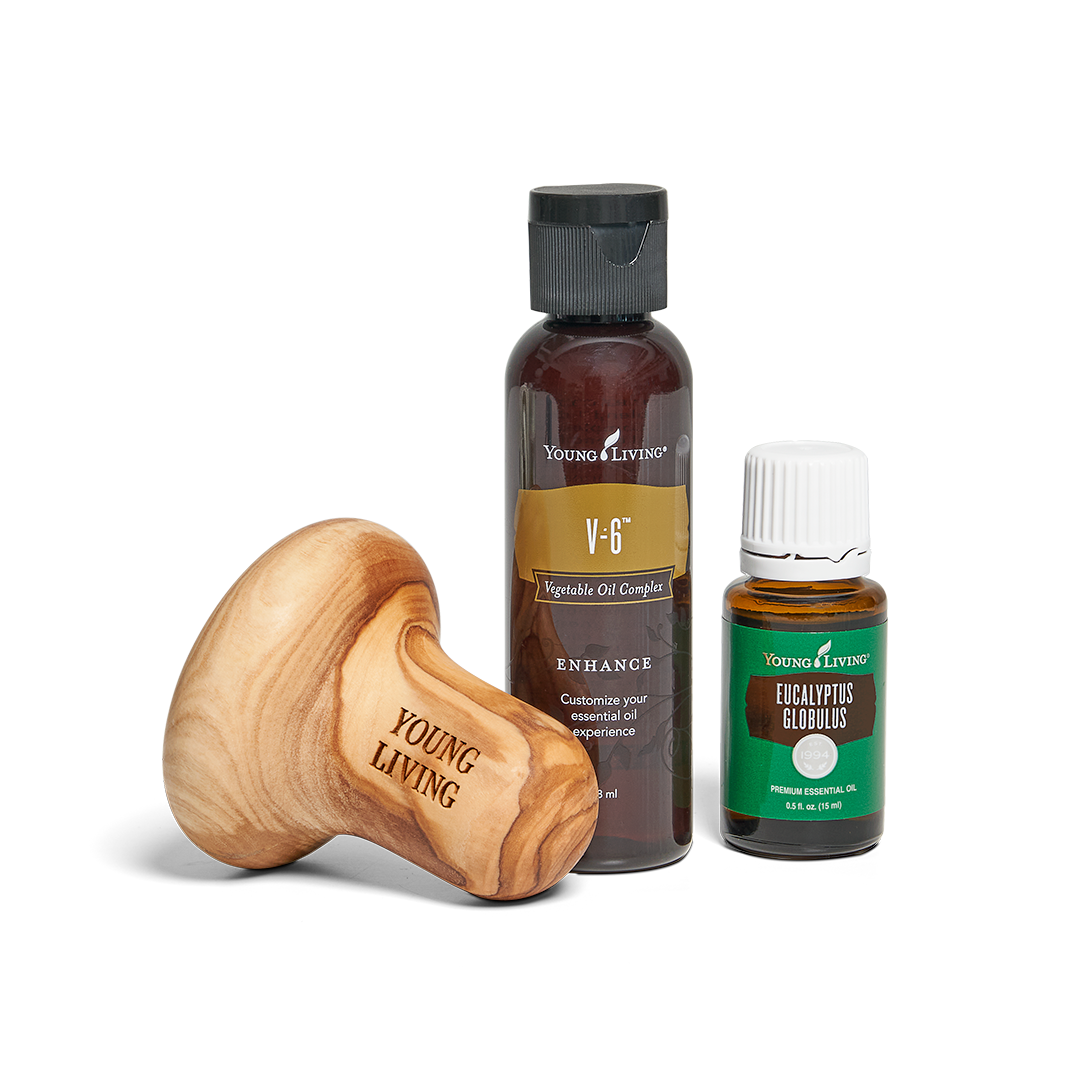 OLIVE WOOD MASSAGE COLLECTION
• Olive wood massage tool made from wood in Bethlehem
• 15 ml Eucalyptus Globulus
• special size V6 massage oil
SALE PRICE - $30.81 (Originally 36.85) | 18.06 PV I Item # 39905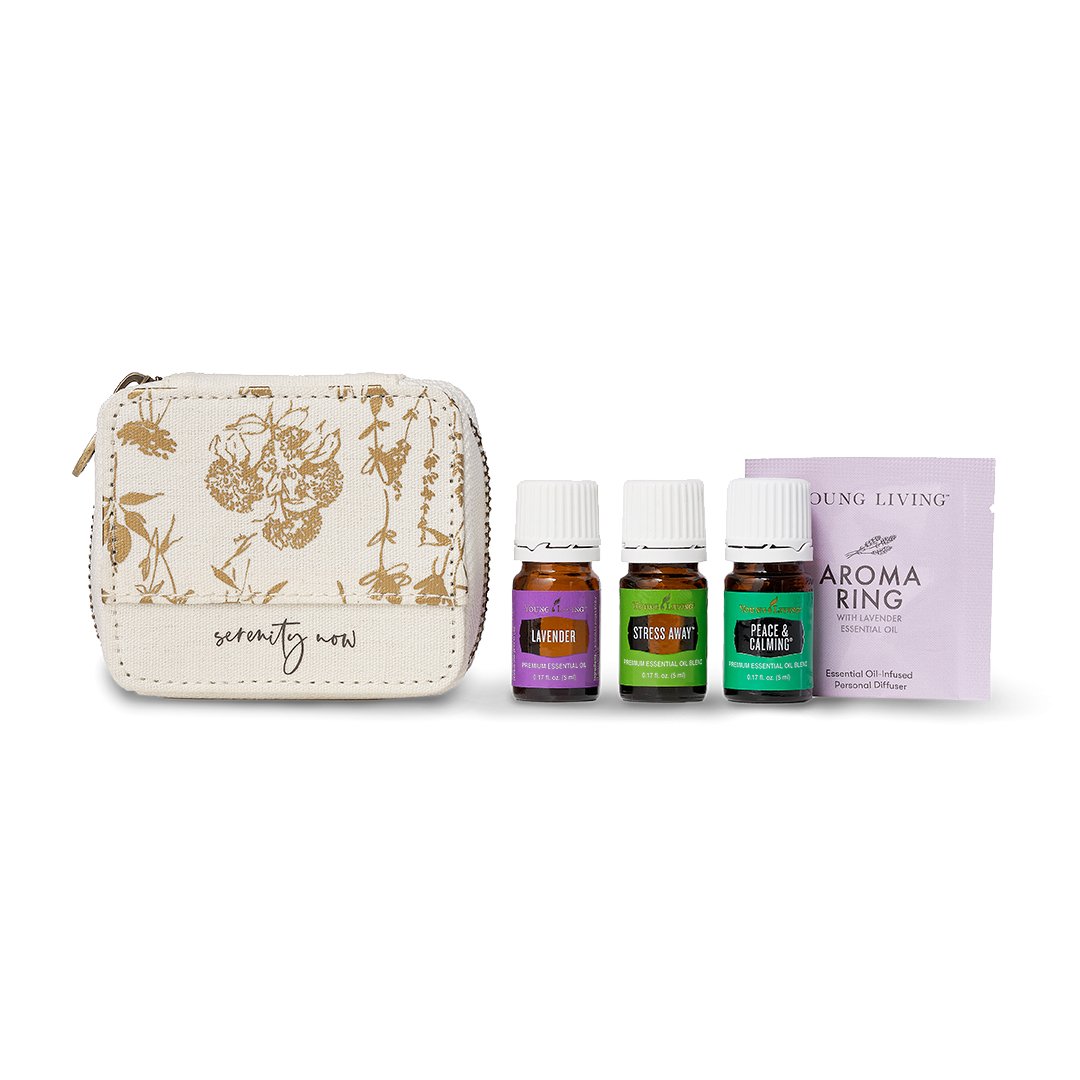 SERENITY NOW
• Lavender, 5 ml
• Peace & Calming, 5 ml
• Stress Away, 5 ml
• Aroma Ring with Lavender
• Travel zipper pouch
SALE PRICE $61.83 (Originally 72.75) | $56.10 PV I Item #33418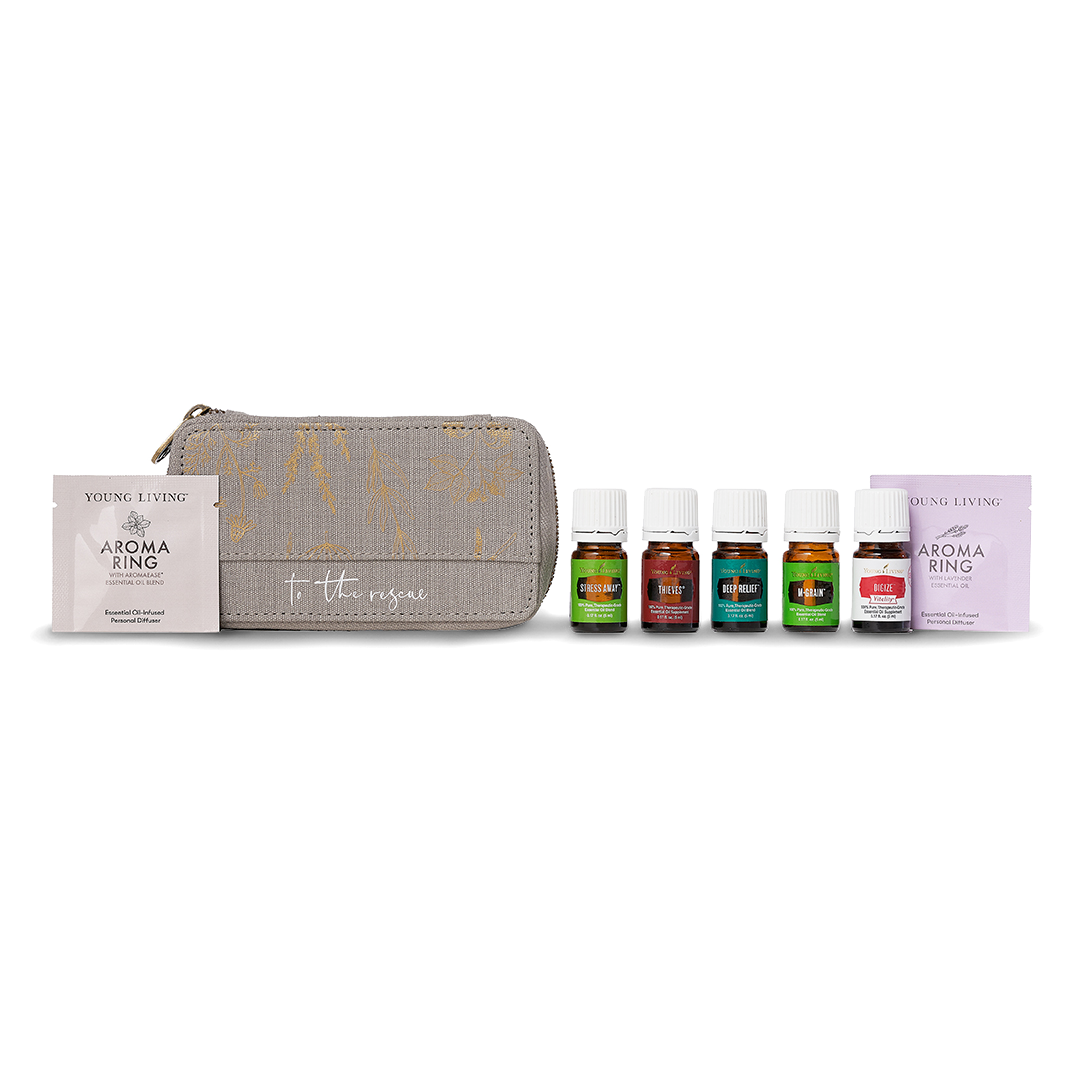 TO THE RESCUE COLLECTION
• Deep Relief, 5 ml
• Digize Vitality, 5 ml
• M-Grain, 5 ml
• Stress Away, 5 ml
• Thieves, 5 ml
• Aroma Ring with AromaEase
• Aroma Ring with Lavender
• Travel zipper pouch
SALE PRICE: $72 (Originally $90) | $66.60 PV I Item #33423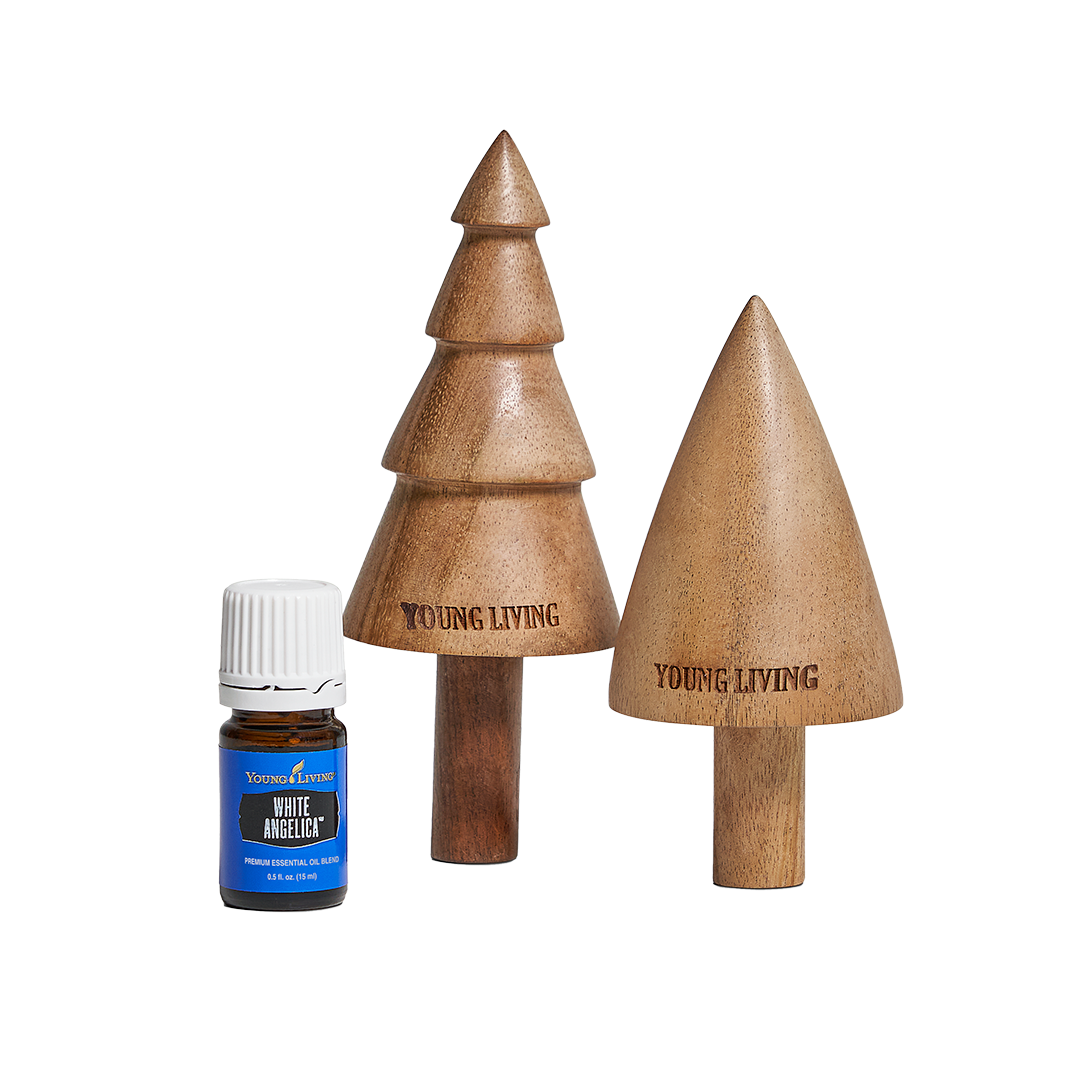 WOODEN TREE COLLECTION
These trees were made in northern India by the women of the Sasha Artisan Network and 100% of the proceeds benefit the Young Living Foundation
• comes with White Angelica, 5ml
SALE PRICE - $36 (Originally $60) | 18 PV I Item #: 39895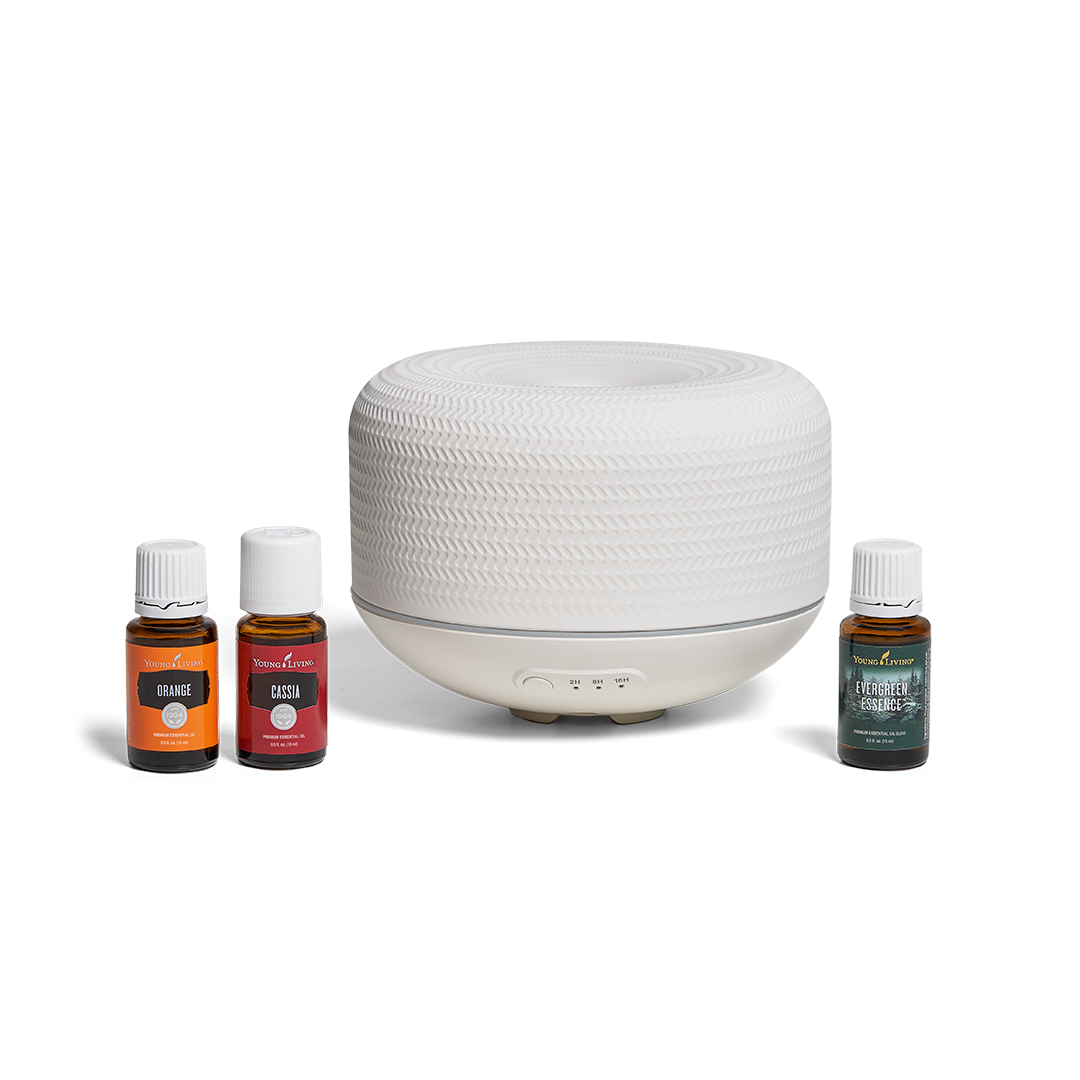 MACARON COLLECTION
Includes: the gorgeous ceramic diffuser - it runs continuously for 2-hours or 8-hours, and 16-hours intermittently - plus a 15 ml evergreen, essence, 15 ml cassia, 15 ml orange
SALE PRICE - $103.31 (Originally $137.75) | 47.06 PV I Item #39624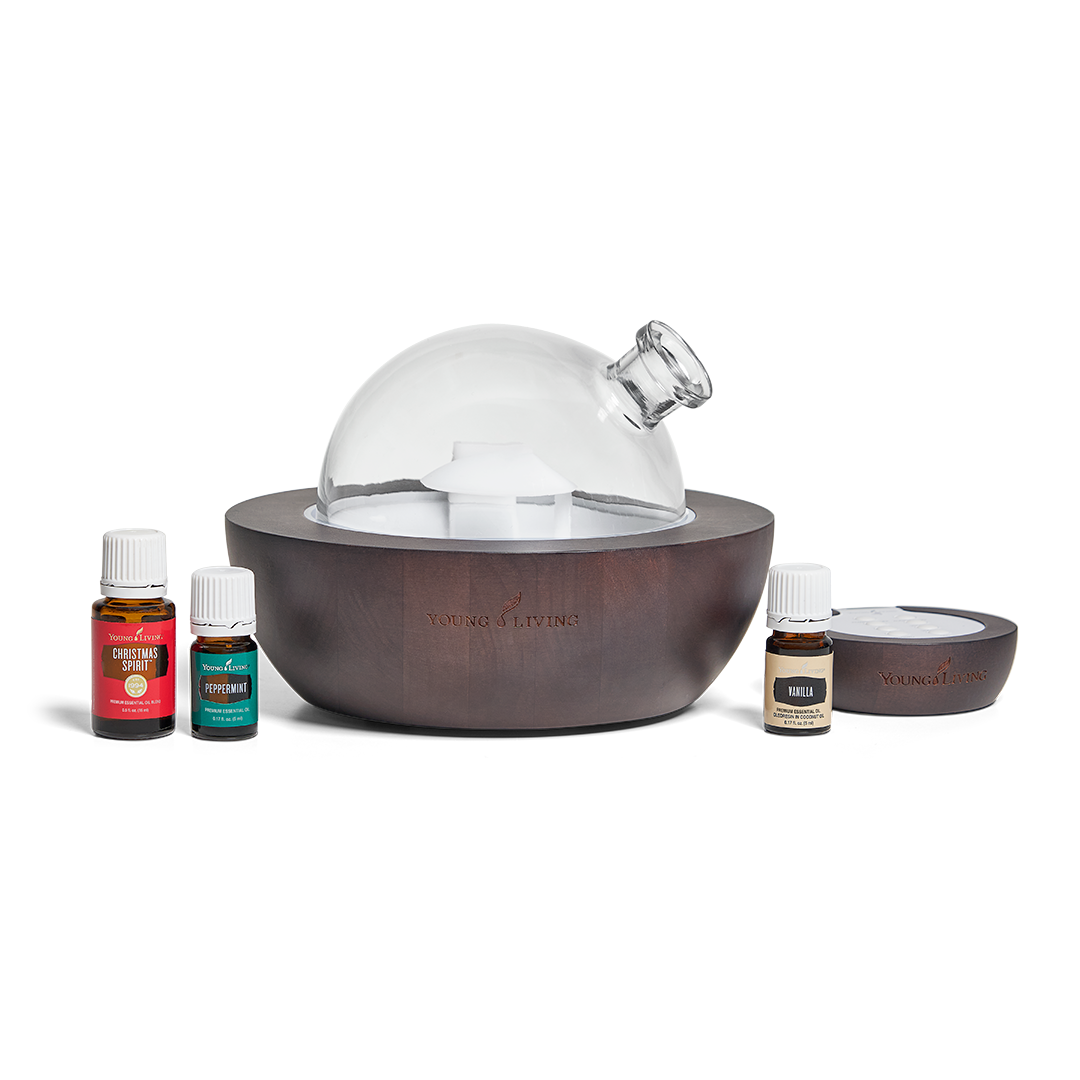 MINI ARIA COLLECTION
This is our most fave diffuser - in a mini! This is LIMITED-EDITION, in a beautiful stained walnut finish! It comes with built-in Bluetooth speakers for your smartphone, features a warm white light, and runs 1-hour, 4-hours, or 8-hours (with an intermittent one-minute on, one-minute off mode!)
Christmas Spirit - it is a MUST HAVE. So, it's cinnamon bark, spruce, and orange. AND IT SMELLS AMAZING!!!!!!!!!!!!!!!!!!!!!! Cinnamon Bark - purifying, enhances the effects of other oils, and supports the immune system…spruce is grounding, creates balance, uplifting, and soothing, and orange encourages a positive outlook on life, brings peace and happiness to the mind and body.
What does it smell like? The sweet, sweet breath of little baby Jesus. Yes, it does.
Vanilla - make sure you add a few extra Vanilla oils to your cart bc you will be obsessed. Young Living's exclusive Vanilla oleoresin has a pure, amazing, scent. Made from the beans grown in the northwestern region of Madagascar, it is uniquely extracted in a way to blend with other essential oils, unlike traditional vanilla extracts. Not only does it smell amazing, you can apply it to your skin & hair to help condition and moisturize.
Peppermint - So fresh and uplifting in the diffuser - perfect for any blend! Great for occasional head tension and cools you right down!
SALE PRICE: $162.14 (Originally $190.75!)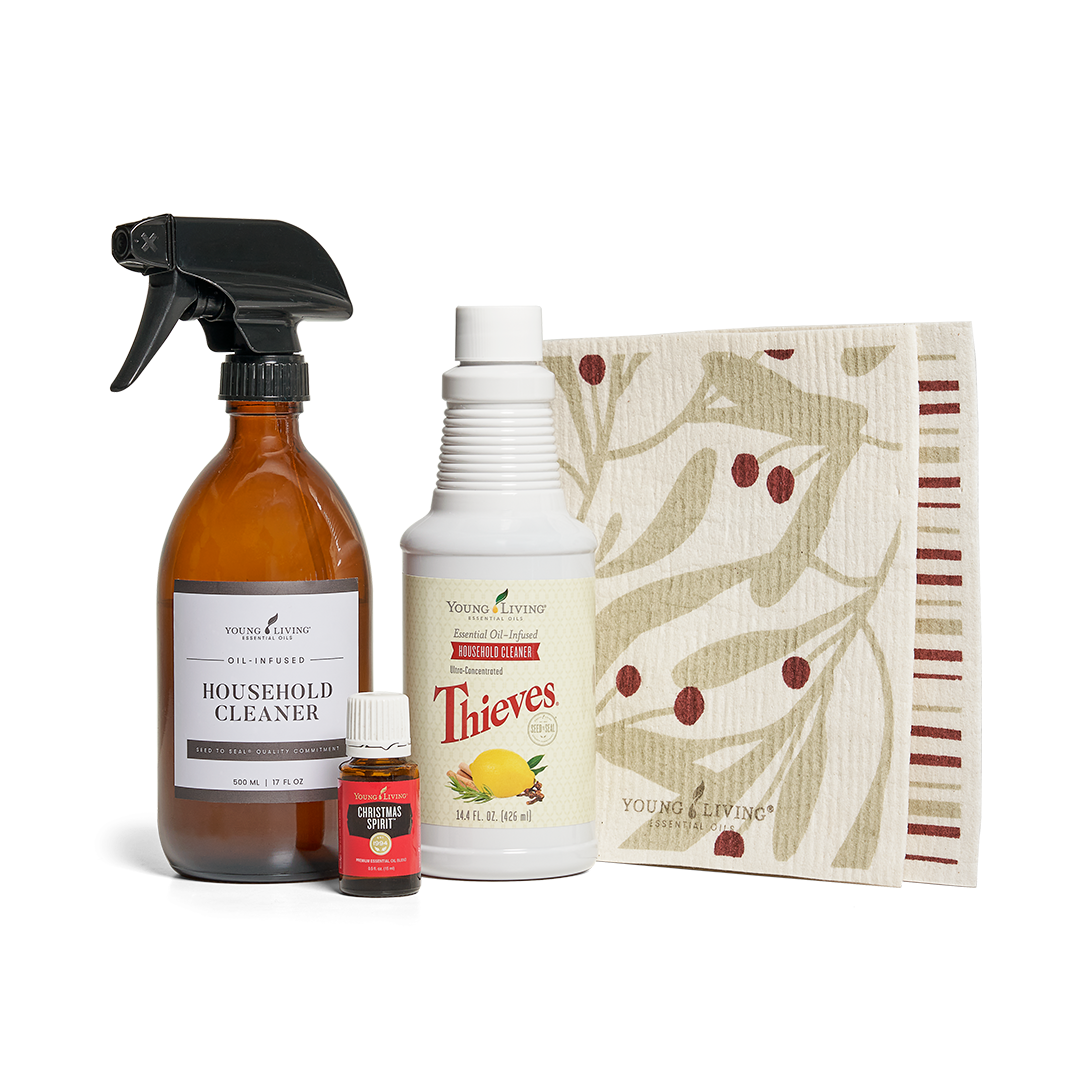 HOLIDAY HOME CLEANING KIT
• Branded Thieves Spray Bottle
• European dish clothes - a perfect housewarming or host gift… or to make some great swaps in your own cleaning routine!
SALE PRICE - $40.75 (Originally $57.05!) I PV 23.25 I Item #: 39629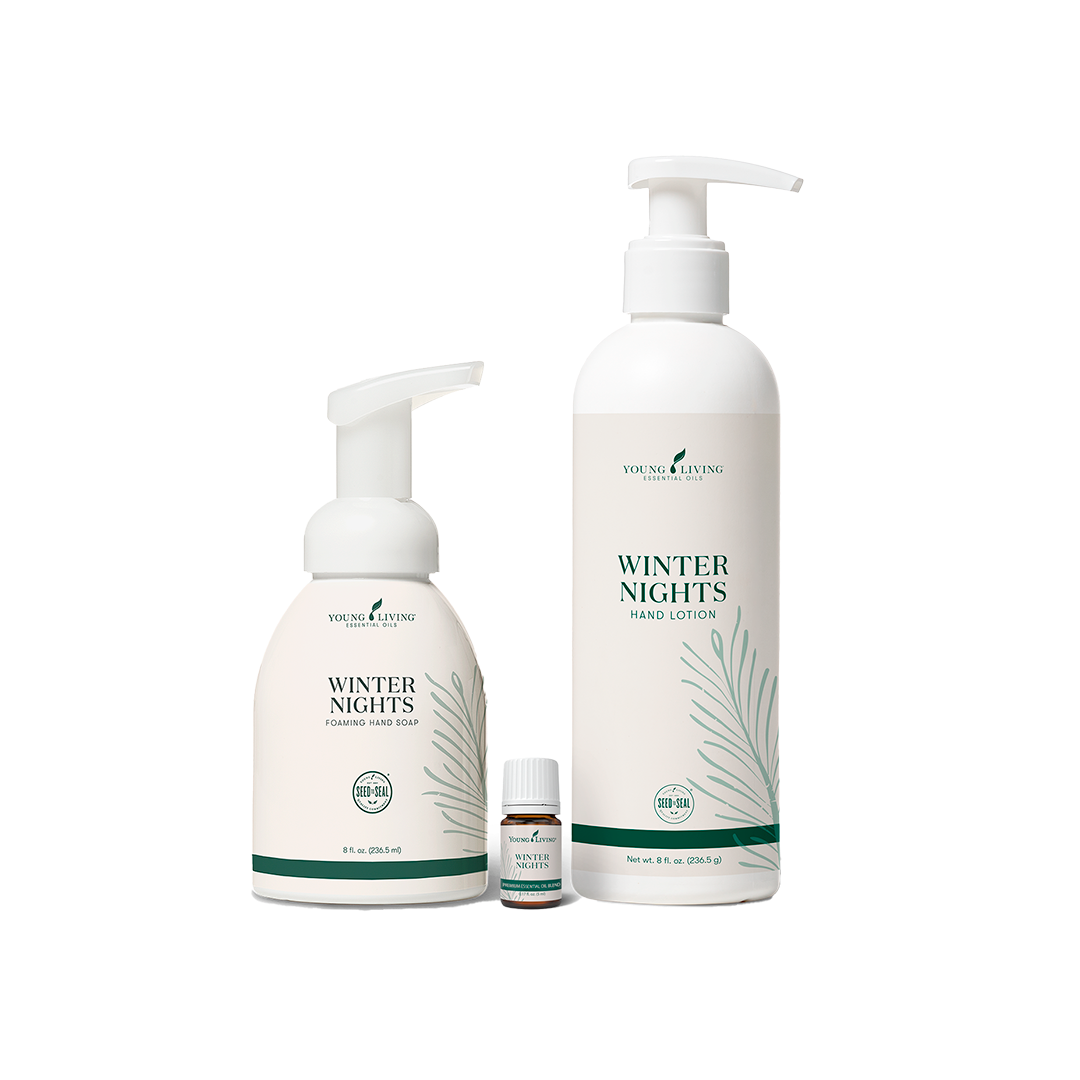 WINTER NIGHTS WONDERLAND COLLECTION
This collection features a 5ml Winter Nights oil, foaming hand soap & hand lotion.
This blend is a combo of Northern Lights Black Spruce, Peppermint, Cedarwood and Orange aka heaven. This is the perfect oil to diffuse to get you through those long winter nights with this cozy, warm aroma that smells amazing.
SALE PRICE: $39.69 (Originally $46.69) I PV: 36.69 I Item #: 40022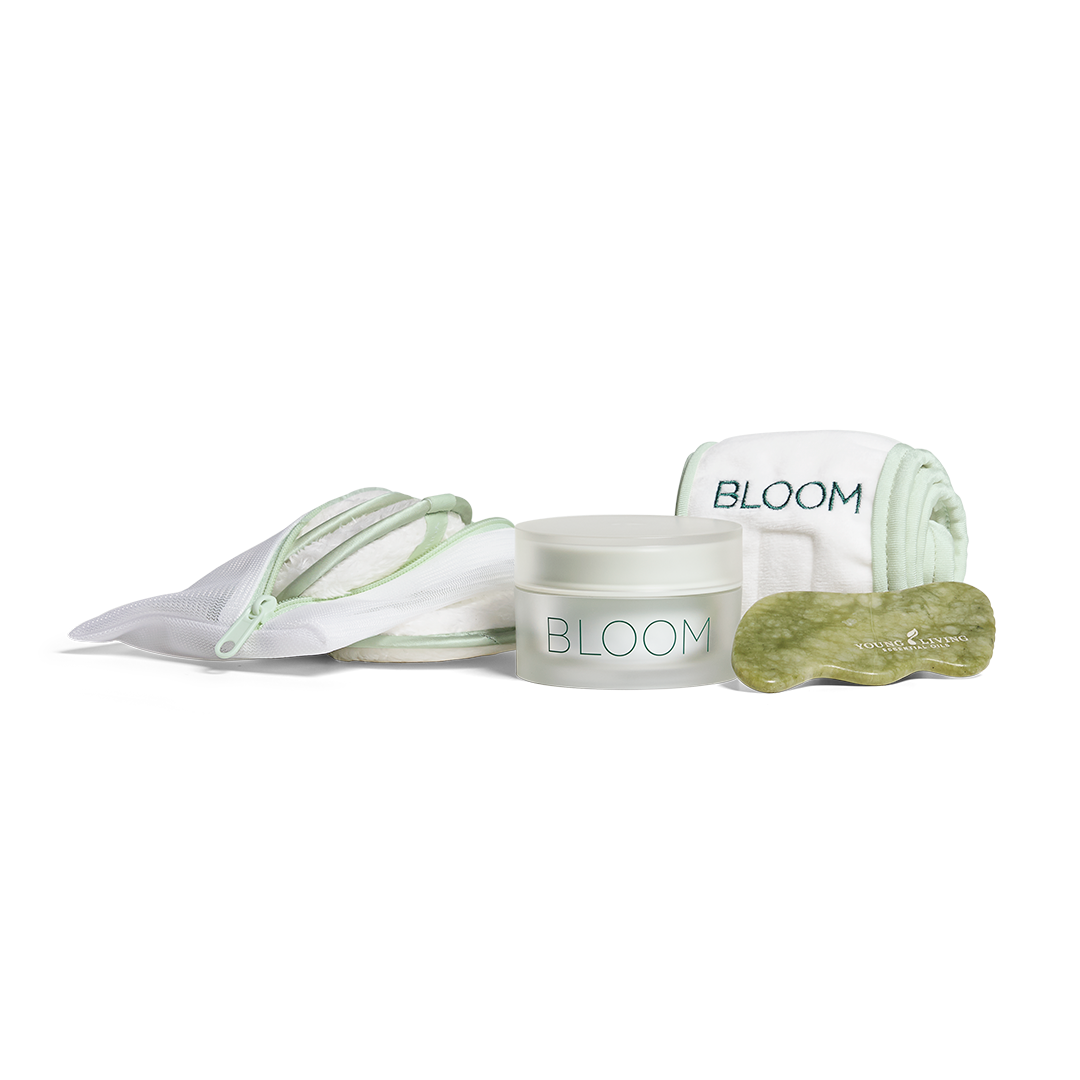 BLOOM COLLECTION
• BLOOM Brightening Creme
Bloom Brightening Cream features the powerful ingredients seaweed extract,ginger root extract, pili pulp oil, red algae, and hyaluronic acid, plus the exquisite aroma of the Sheerlumé essential oil blend (Vetiver, Blue Cypress, Davana, Royal Hawaiian Sandalwood, Clove, Jasmine, Carrot Seed, Spearmint, Geranium and Frankincense)
SALE PRICE - $85 (Originally $100) | 66.30 PV I Item # 40021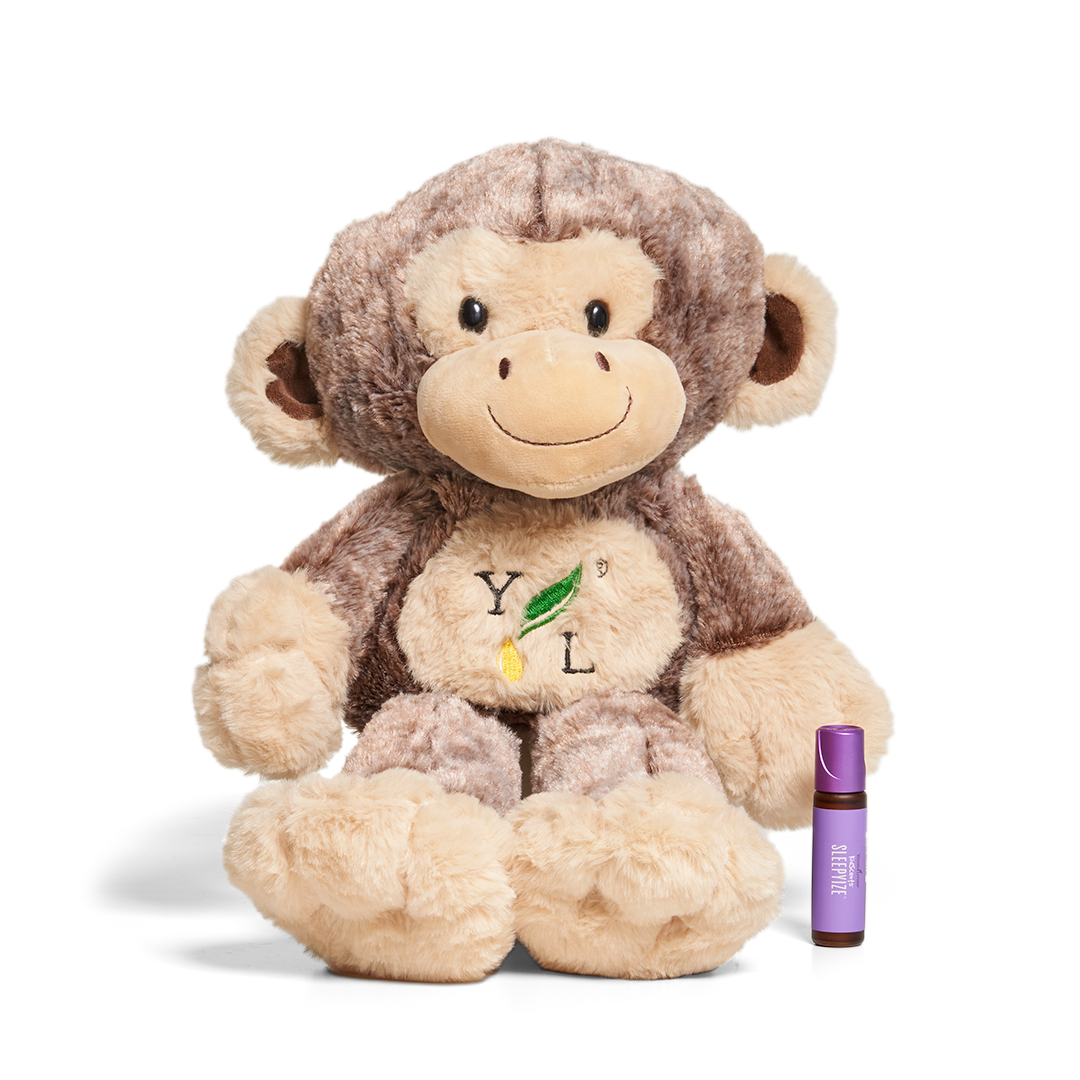 MONKEY STUFFIE COLLECTION
This set includes the softest, cuddliest stuffed monkey with a removable lavender vanilla pouch to heat up for warmth + coziness - plus a SleepyIze Roll-On!
SALE PRICE - $42 (Originally $84) | 14.5 PV I Item #: 39975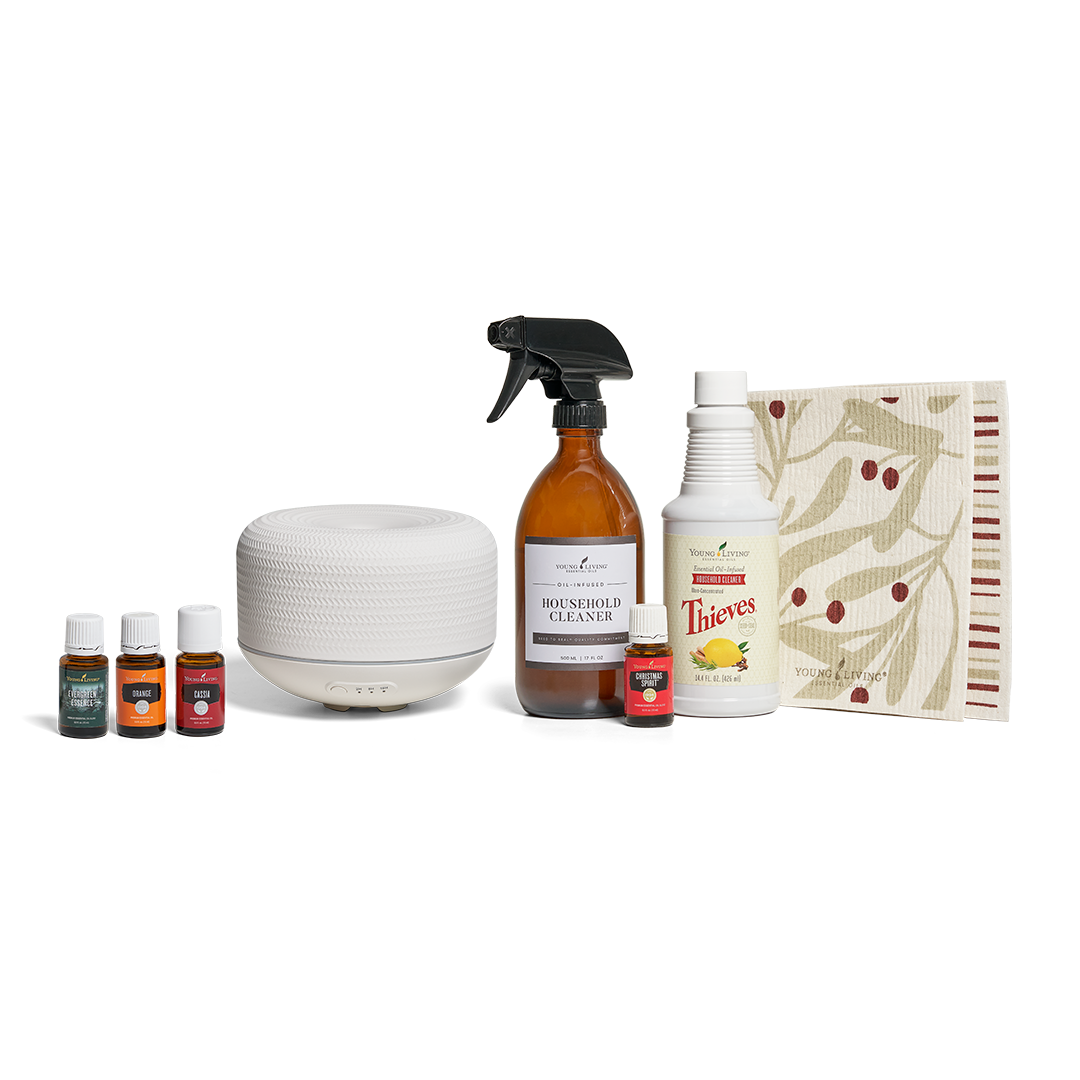 HOLIDAY HOME COLLECTION
This is one of my FAVES. The value is insane and it comes with my fave things!
• Macaron Diffuser
• Evergreen Essence, 15ml
• Orange, 15ml
• Cassia, 15ml
• Christmas Spirit, 15ml
• Thieves Household Cleaner, Spray Bottle, Reusable dish cloth
• Christmas Spirit Foaming Hand Soap
We have another gorgeous ceramic diffuser - it runs continuously for 2-hours or 8-hours, and 16-hours intermittently! Plus, the BRAND NEW FORMULA of Evergreen Essence!!! (We all know Evergreen Essence is already a super hard to snag seasonal unicorn but it just got a whole lot more unicorn-y (yup that's a word)
You see, Pine oil has been getting lots of attention lately…kinda like lemon and geranium are…iykyk. Well, they've been looking deeper into pine and a bunch of other conifers we that we grow and distill at our Highland Flats farm as well and wouldn't ya know, lots of them have the "protective" and powerful properties too!
They looked at our current Evergreen Essence blend and it has many of those conifers already in it but it was missing some powerful hitters….so they re-blended it and added in the missing ones! NOTE: The label will be the old label - but with the new oils. The new ingredients will be on the website, and they are various conifer oils, including Balsam Fir, Black Hills Spruce, Douglas Fir, Englemann Spruce, Fraser Fir, Grand Fir, Lodgepole Pine, Ponderosa Pine, Sublapine Fir, Western Hemlock, Western Larch, and Wester White Pine. This blend offers the feeling of strength and protection, like the powerful trees that bring security and beauty to our world. This oil blend will bring the clean, crisp smell of snow-draped forests into your home.) So how do you use it? Well I'm just gonna recommend applying generously when going in public, at gatherings, when you're around a lot of people, when you're going to be hugging lots of people…basically it's for when you have to people. You pickin up what I'm layin down friends????)
We covered how important Evergreen Essence is - now make sure to diffuse Cassia's warm, uplifting scent with Vanilla (grab the Mini Aria collection too and you'll be set!) and you can thank me later!!! Or pair it with Thieves Household Cleaner as you tackle dirt and grime. To invite spirituality and clarity, inhale it as you create a sense of peace and serenity. Go put "benefits of cassia" in your search engine. Really, go. Orange? One of the happiest, most uplifting oils. Add a few drops to your toothbrush for a whiter smile and fresh breath. Citrus oils are made from the rind, not the acidic juice, so there's no need to worry about your enamel!
SALE PRICE: $139.23 (Originally $198.90!) I PV: 73.78 I Item #: 40165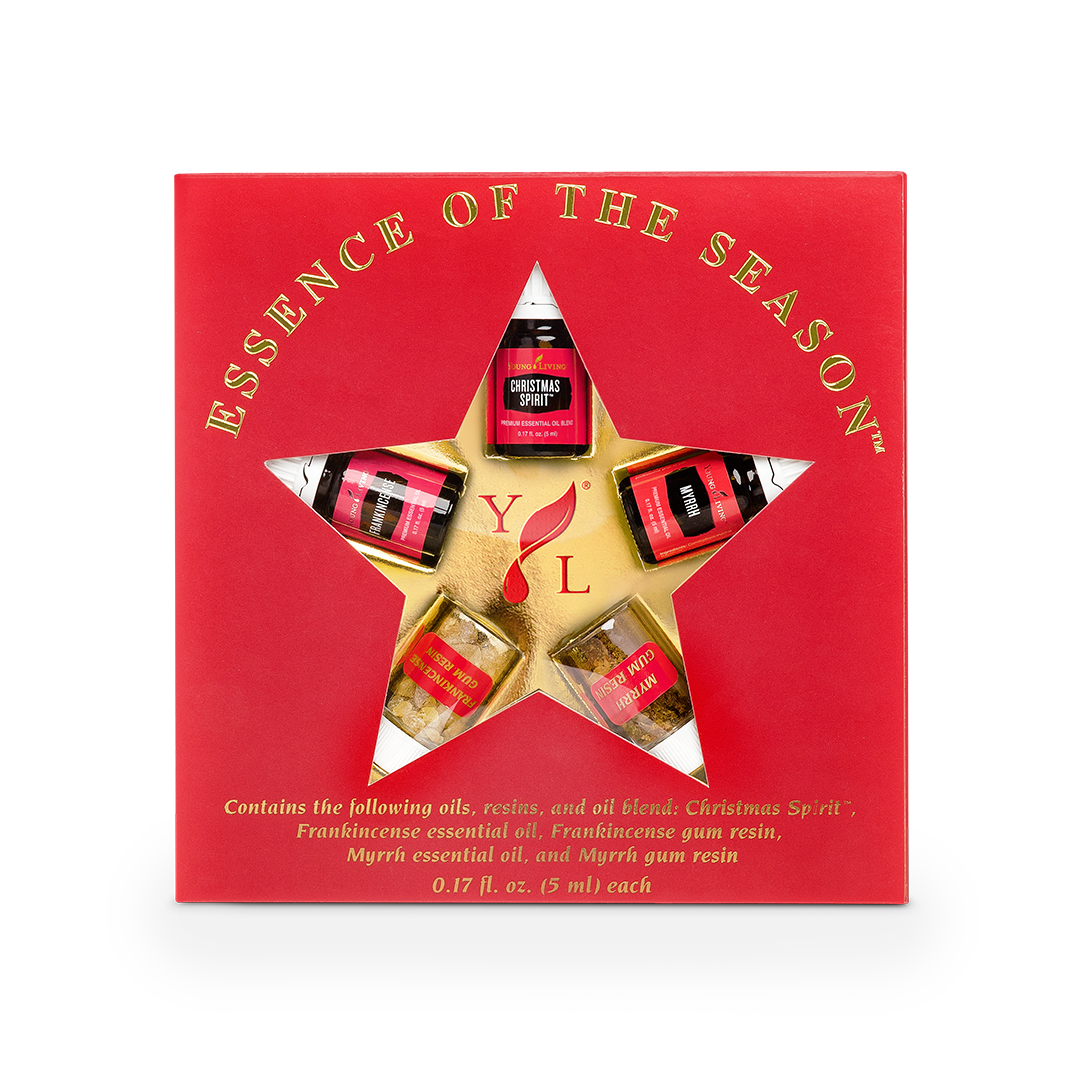 ESSENCE OF THE SEASON COLLECTION
Good enough for baby Jesus, so good enough for me-- all the scents that are nostalgic to the reason for the season!!
SALE PRICE $78.20 (Originally $92), PV 78.20 I Item #3118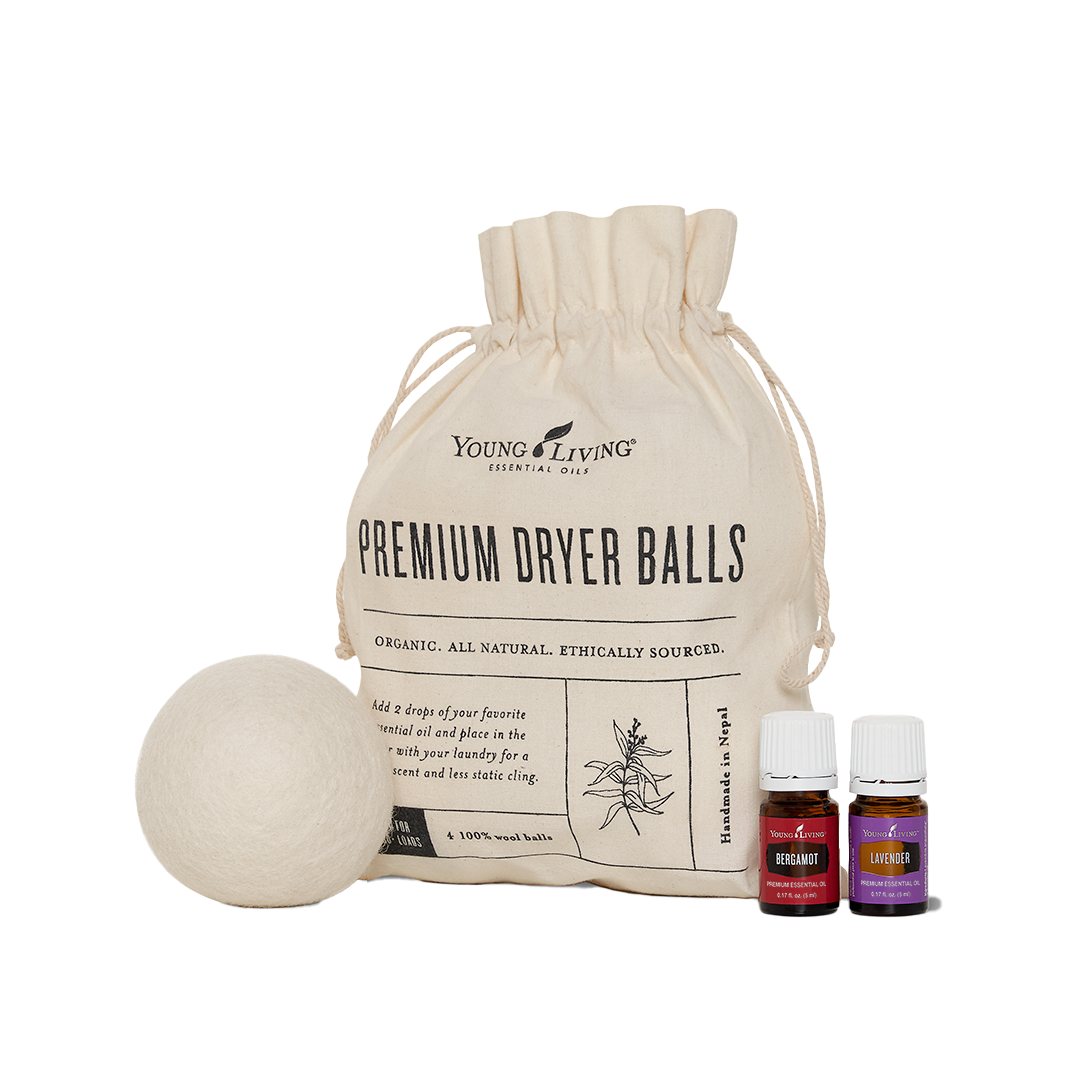 NEPALESE WOOL DRYER BALL COLLECTION
Put them all in the dryer with 4-5 drops oil total, and your clothes dry faster, smell fantastic, all without the toxic build-up from conventional dryer sheets. (Add a safety pin or two to reduce static!)
• Dryer balls in a reusable bag, 4 ct.
• Lavender, 5 ml
• Bergamot, 5 ml
SALE PRICE $24 (Originally $40) I PV: 12 I Item #: 35328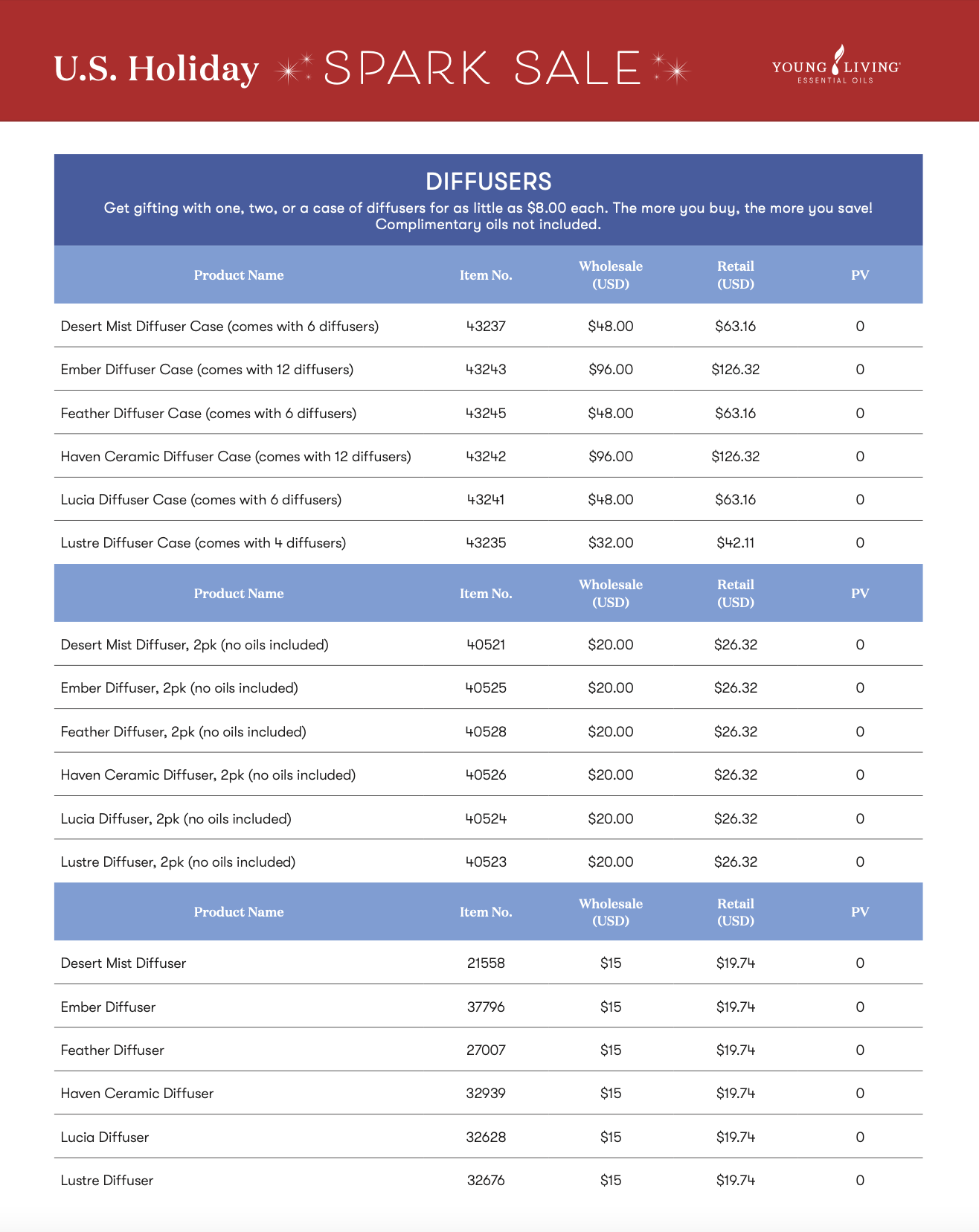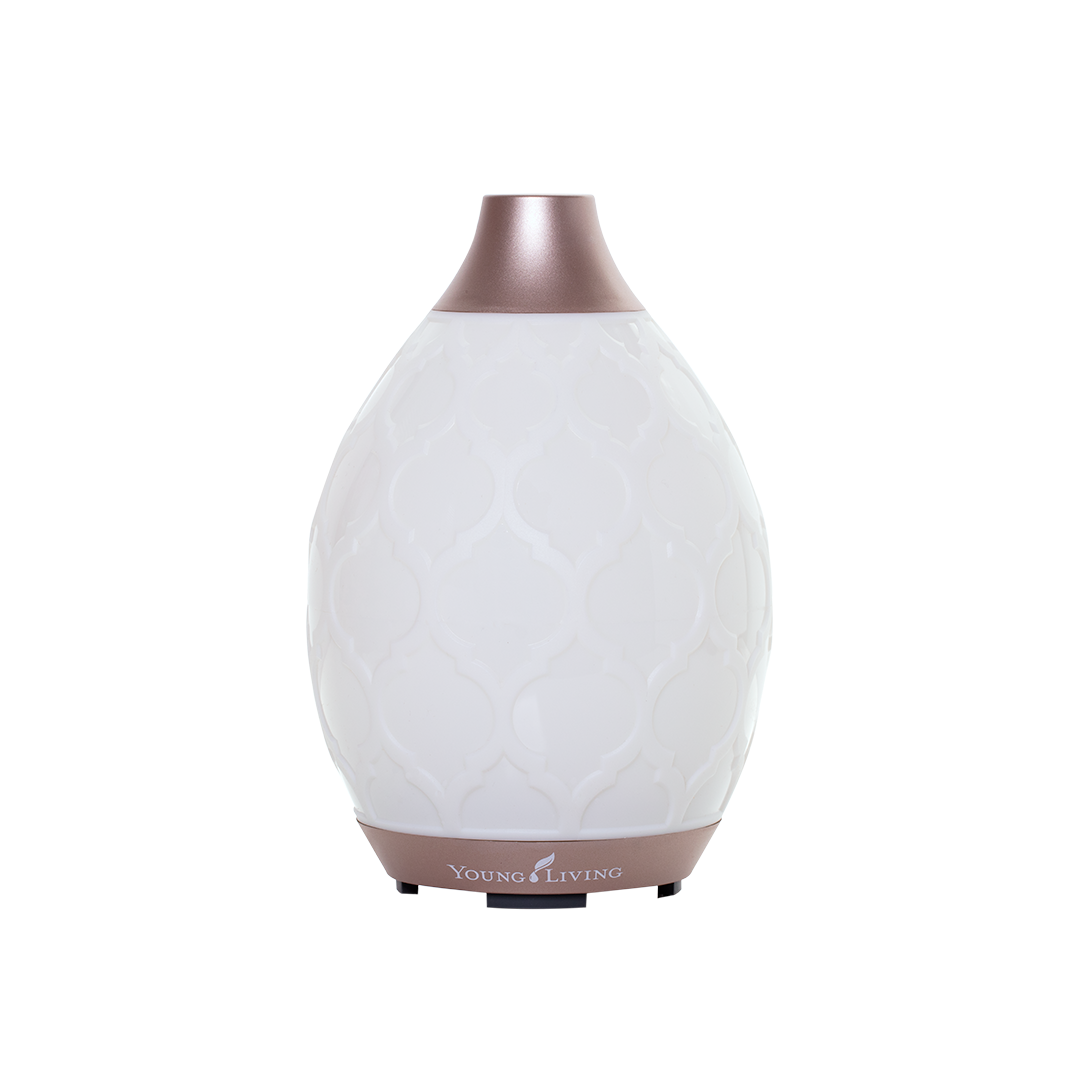 Desert Mist Diffuser
Desert Mist Diffuser, 2pk (no oils included) (#40521,

$20 a pack, 0pv

)
Desert Mist Diffuser Case (comes with 6 diffusers) (#43237, $48, 0pv)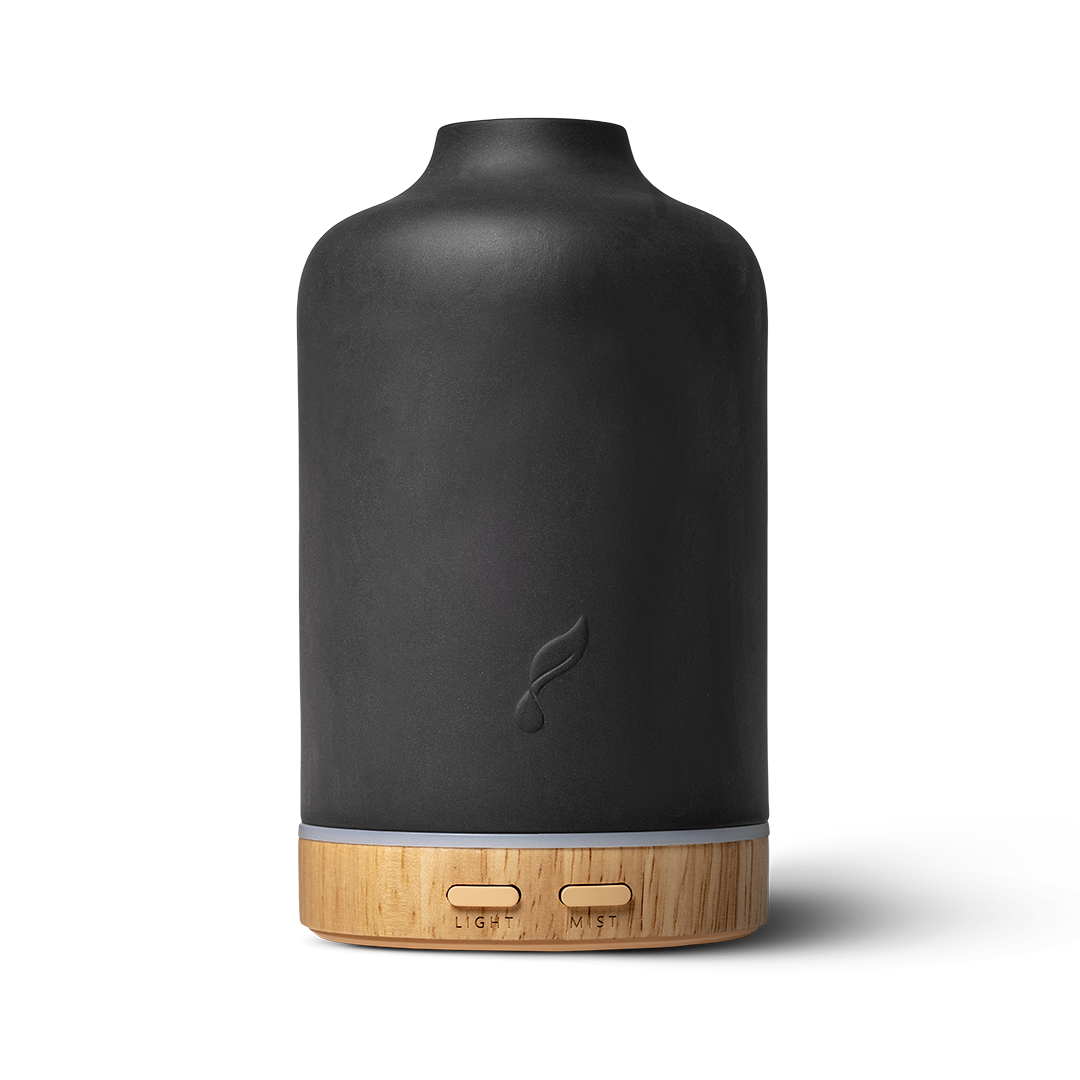 Ember Diffuser
Ember Diffuser, 2pk (no oils included) (#40525,

$20 a pack, 0pv

)
Ember Diffuser Case (comes with 12 diffusers) (#43243, $96, 0pv)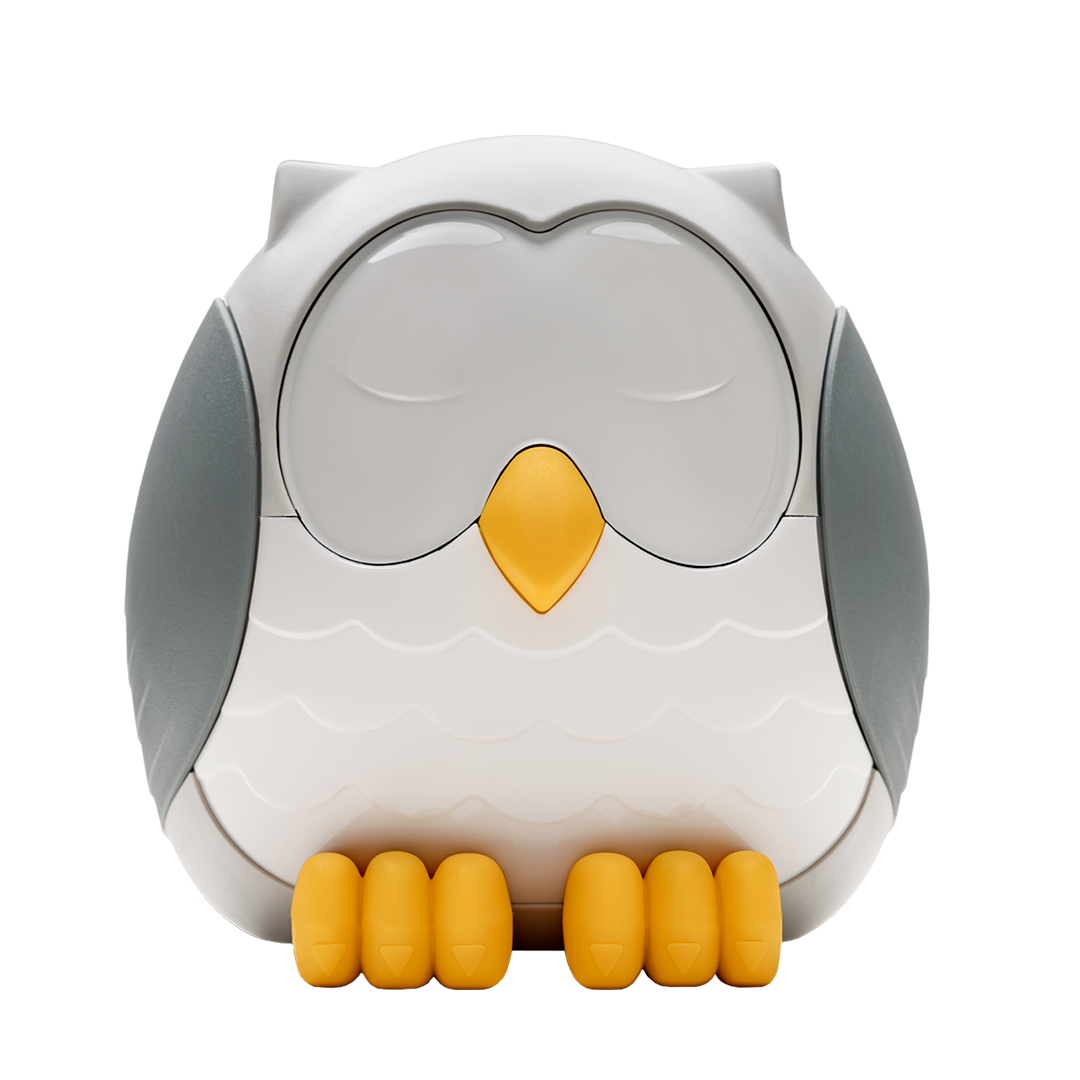 Feather Diffuser, 2pk (no oils included) (#40528,

$20 a pack, 0pv

)
Feather Diffuser Case (comes with 6 diffusers) (#43245, $48, 0pv)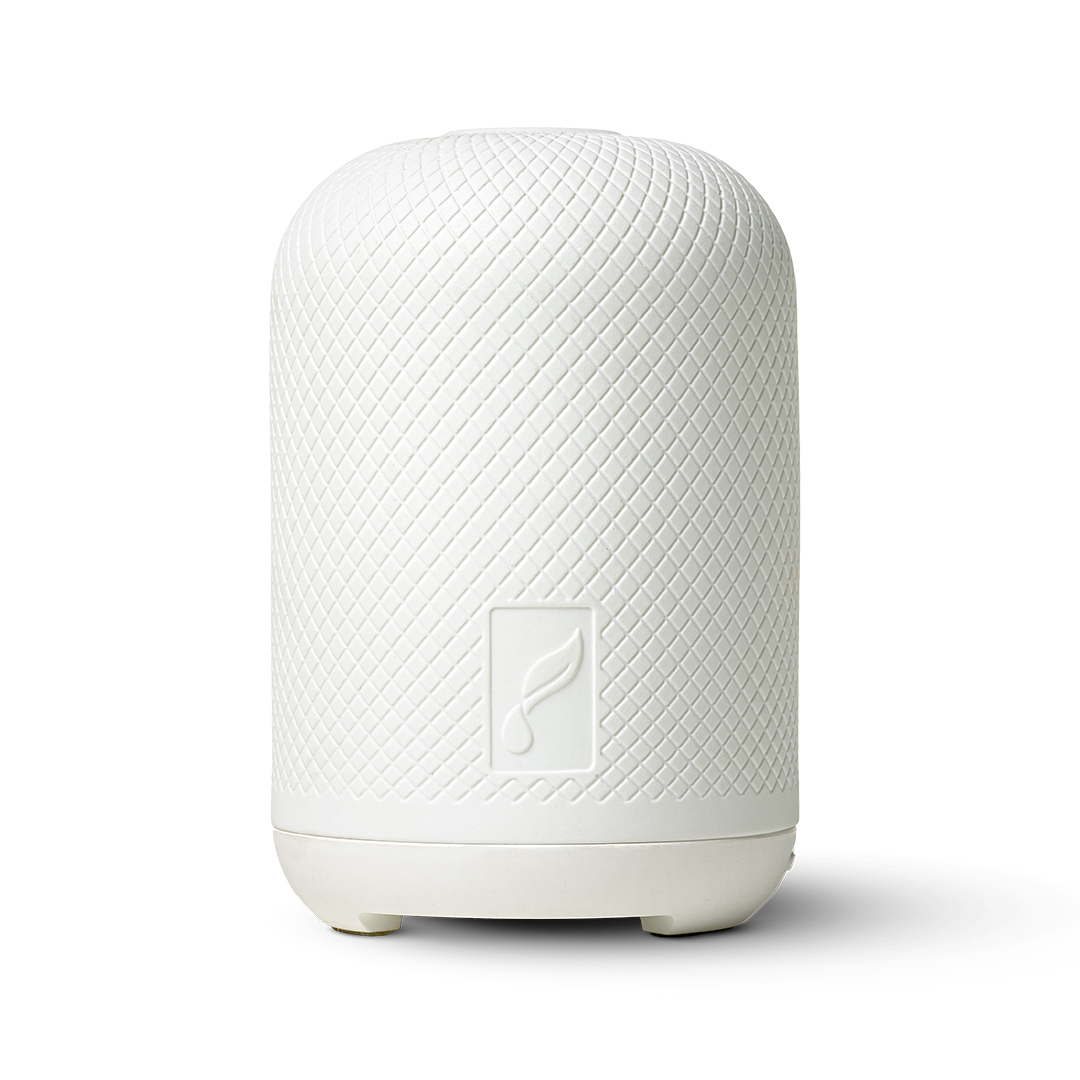 Haven Ceramic Diffuser, 2pk (no oils included) (#40526,

$20 a pack, 0pv

)
Haven Ceramic Diffuser Case (comes with 12 diffusers) (#43242, $96, 0pv)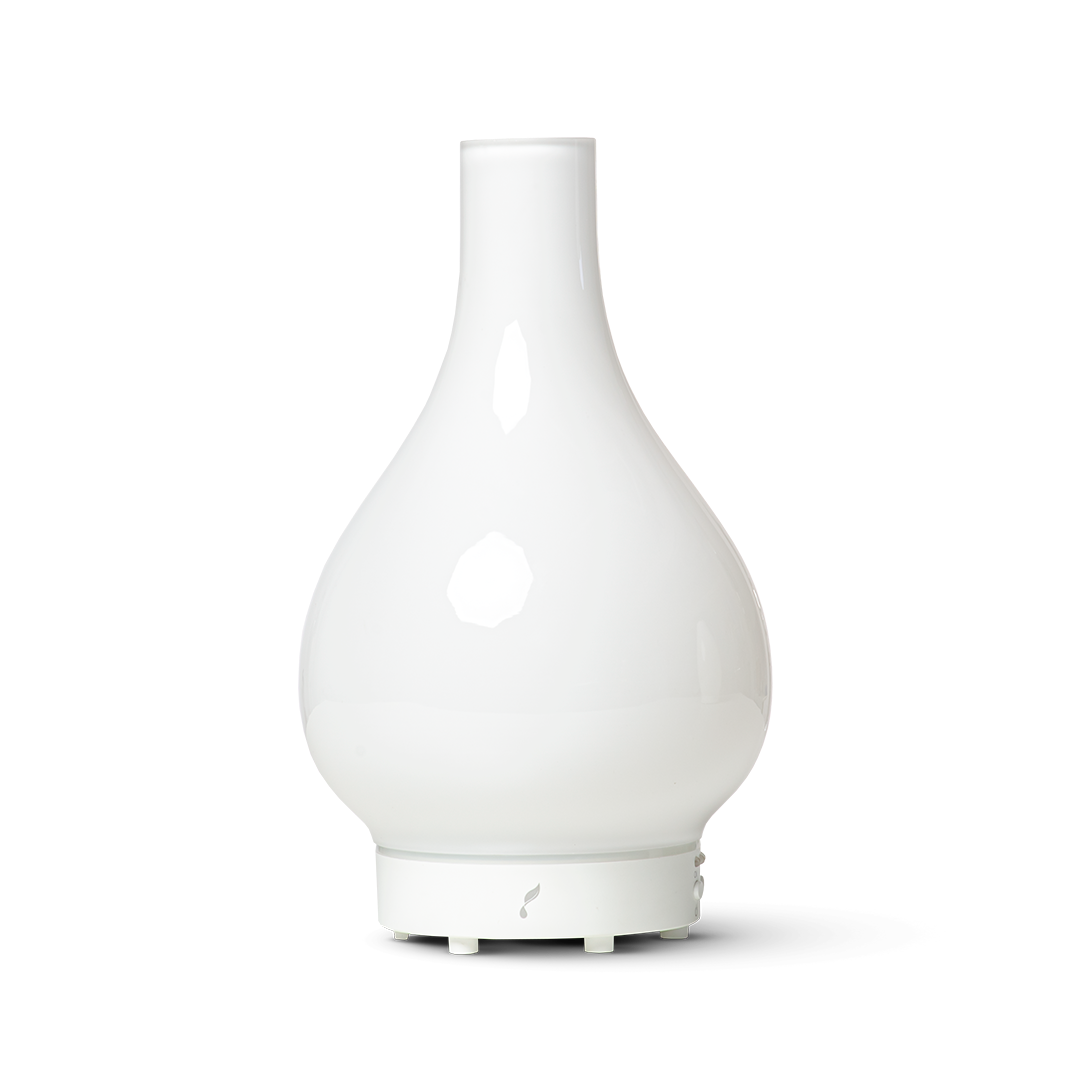 Lucia Diffuser
Lucia Diffuser, 2pk (no oils included) (#40524,

$20 a pack, 0pv

)
Lucia Diffuser Case (comes with 6 diffusers) (#43241, $48, 0pv)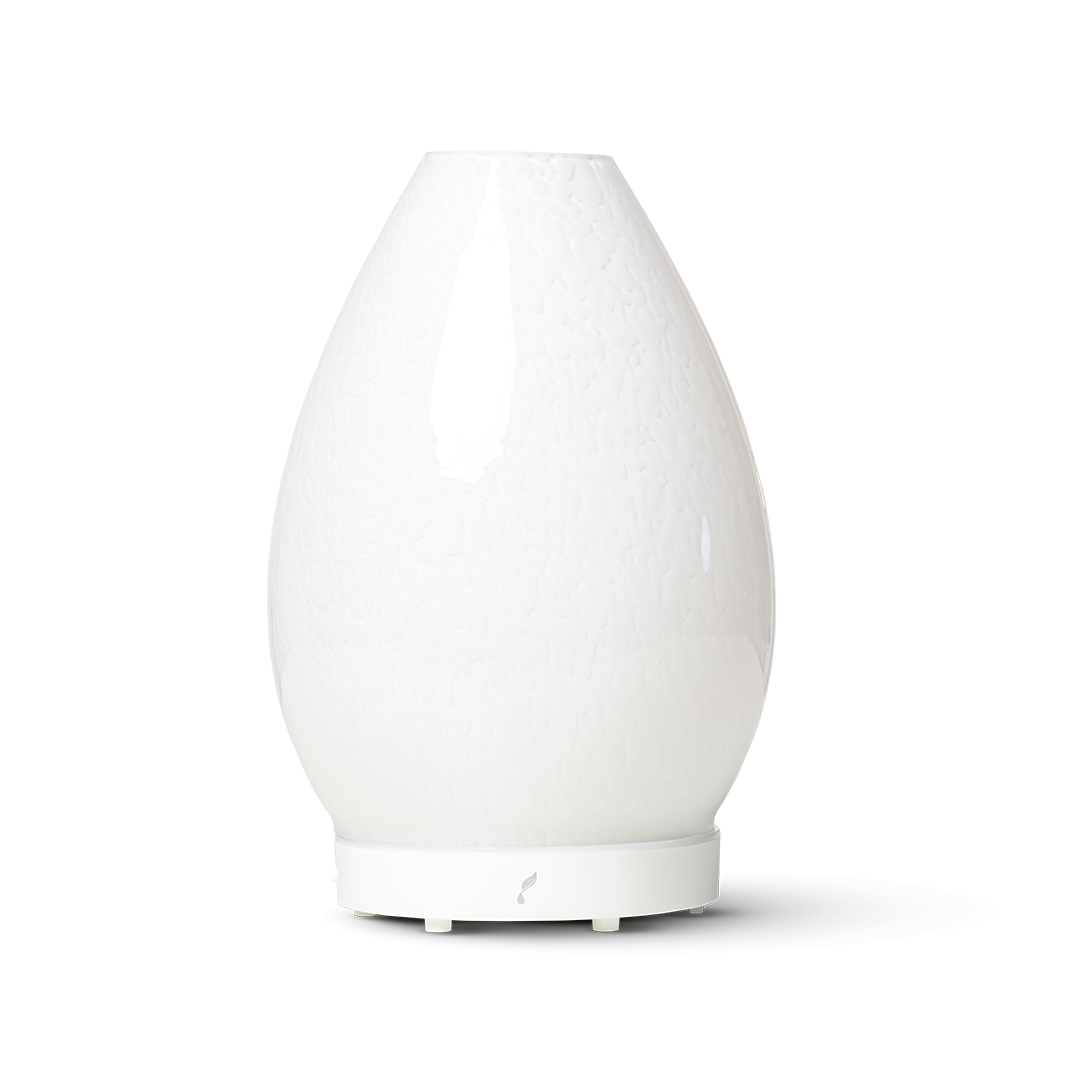 Lustre Diffuser, 2pk (no oils included) (#40523,

$20 a pack, 0pv

)
Lustre Diffuser Case (comes with 4 diffusers) (#43235, $32, 0pv)
I look forward to hearing how you and love ones enjoy these special products from Young Living. Please feel free to contact me with any comments or questions at 707-355-1920 or via email at Theresa@ALohaBright.com
Happy Shopping,
Theresa