Summertime provides us with the endless adventures we need to recharge. But while we are refueling don't forget to take care of your skin. Let's keep our skin vibrant, healthy and happy.
I always make sure to read labels to know what I am putting on my body. I have made DIY creams and lotions with essential oils and pure carrier oils. But I find it simpler these days to use an exceptional product line that carries with it the Seal of Excellence. And so I want to share with you just what I use to protect my skin during these summer months.
Included is a product description, ingredient list for most products, and usage directions. I hope this makes your summer shopping easy and enjoyable! Feel free to share this blog with friends and family looking for summer skincare solutions. Simple ordering instructions are at the bottom of this blog.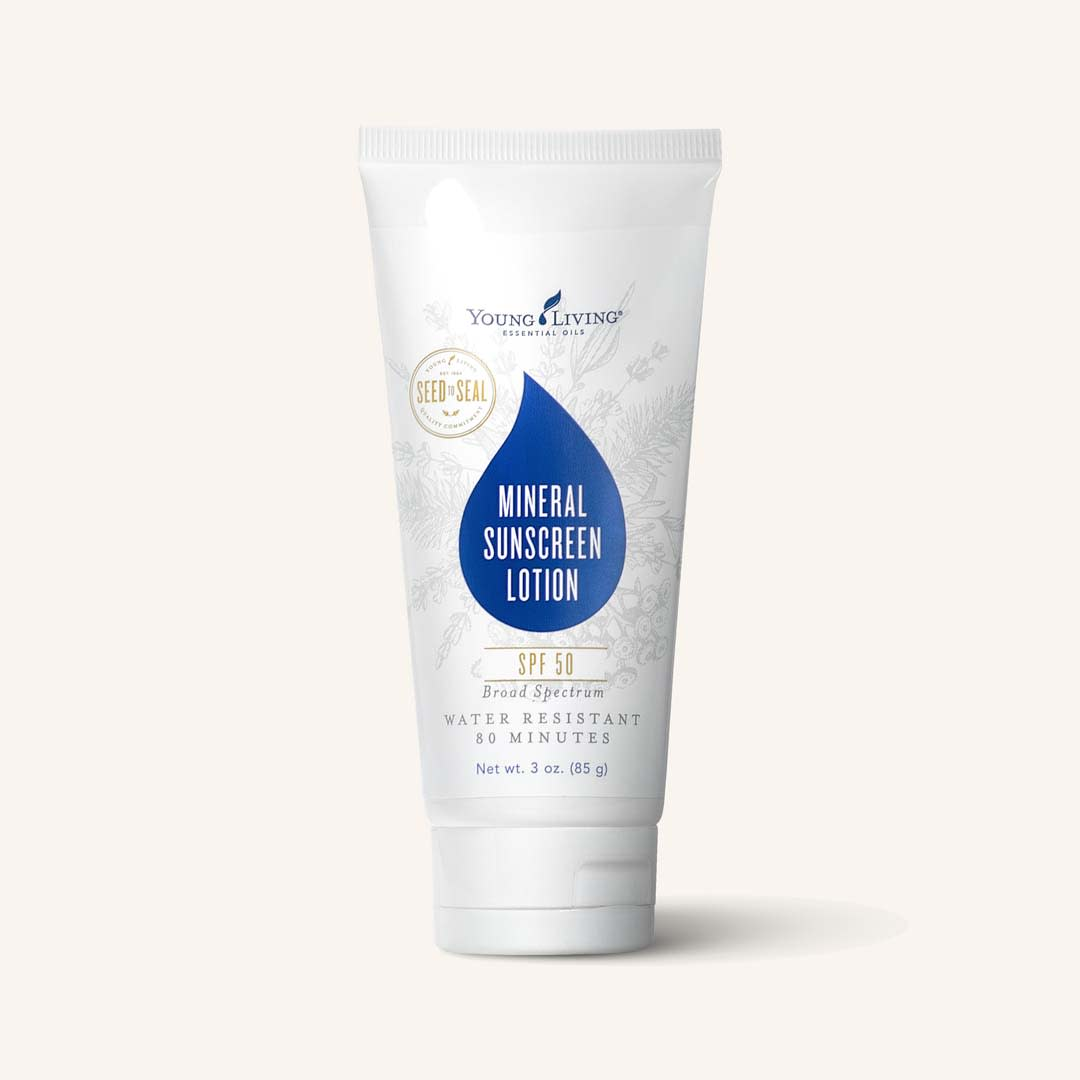 Young Living's Mineral Sunscreen Lotion SPF 50 offers broad-spectrum protection from harmful UVA and UVB rays. This product is reef safe, free from harsh chemicals, and great for children and adults, so the whole family can enjoy the outdoors worry free for up to 80 minutes before reapplying. Mineral Sunscreen Lotion SPF 50 is made with non-nano zinc oxide to give you confidence and peace of mind that you are choosing the safest sun protection for yourself, your family, and the planet.
DIRECTIONS: Apply liberally to clean, dry skin 15 minutes before sun exposure. Reapply after 80 minutes of swimming or sweating. Reapply immediately after towel drying or at least every 2 hours.
INGREDIENTS: Zinc oxide, Caprylic/Capric triglyceride, Beeswax, Castor oil, Coco-Caprylate/Caprate, Coconut oil, Tocopherol, Polyglyceryl-3 polyricinoleate, Sunflower seed oil, Helichrysum oil, Lavender oil, Myrrh resin oil, Cistus oil, Ylang ylang oil, Carrot seed oil, Sacred Frankincense resin oil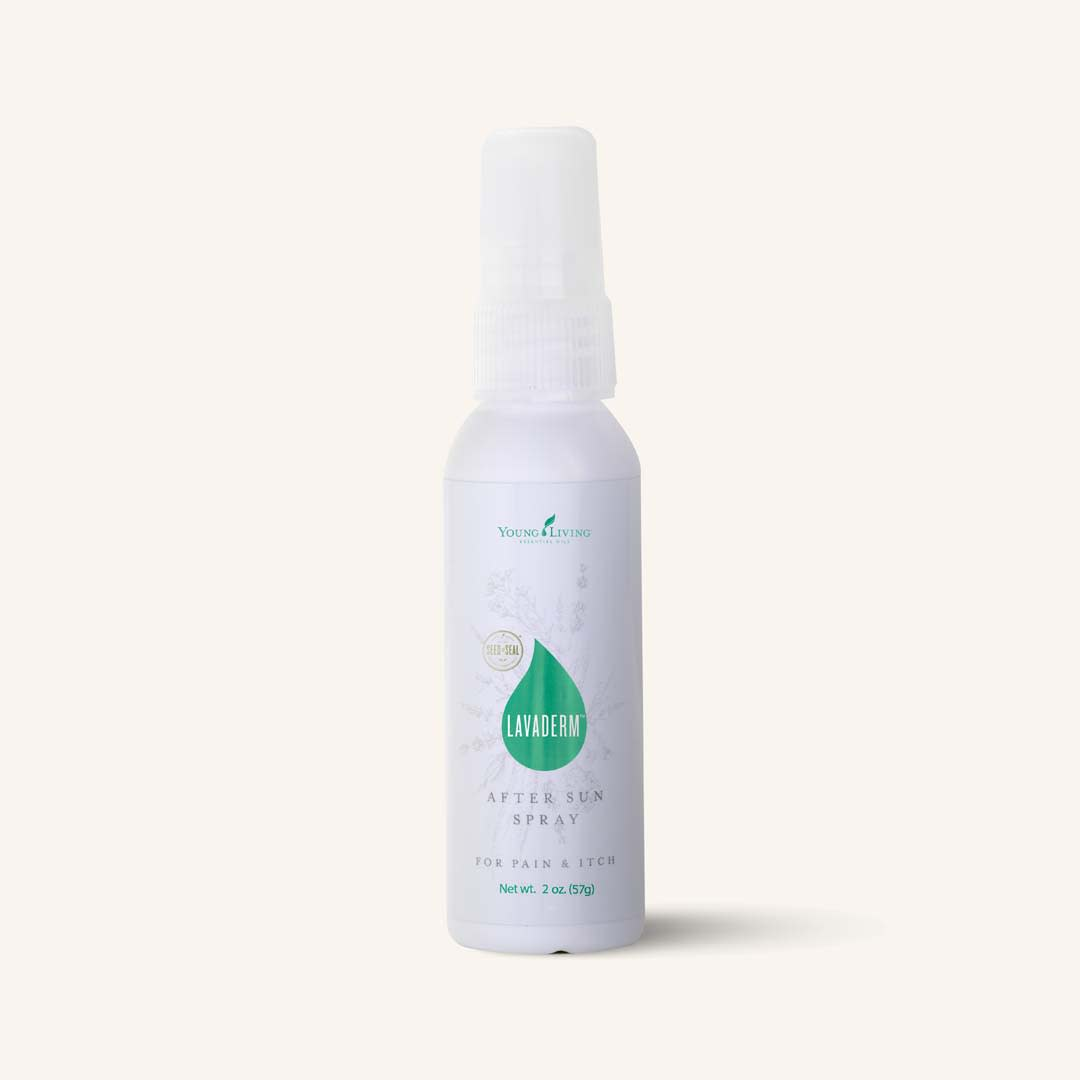 Refresh and recover from a day in the sun with LavaDerm After-Sun Spray. Using menthol from mint, this spray soothes and cools the skin, providing immediate relief from the effects of outdoor activity. Plus, its moisturizing qualities—from ingredients such as aloe and Lavender and Helichrysum premium essential oils—help prevent peeling and leave skin feeling soft and smooth. Made without alcohol and synthetic fragrances or colorants, LavaDerm After-Sun Spray is safe for the whole family.
DIRECTIONS: Spray on affected area up to 4 times daily. For children under 2, ask a doctor.

INGREDIENTS: Water, Olive oil, Glycerin, Safflower oil, Sunflower oil, Jojoba oil, Polyglyceryl-10 pentastearate, Glyceryl monocaprylate, Helianthus annuus seed wax, European elderberry, Xanthan gum, Docosanol, Sodium stearoyl lactylate, Lavender oil, Aloe vera leaf, Glyceryl monoundecylenate, Phytate sodium, Picea mariana leaf oil, Helichrysum oil, Citric acid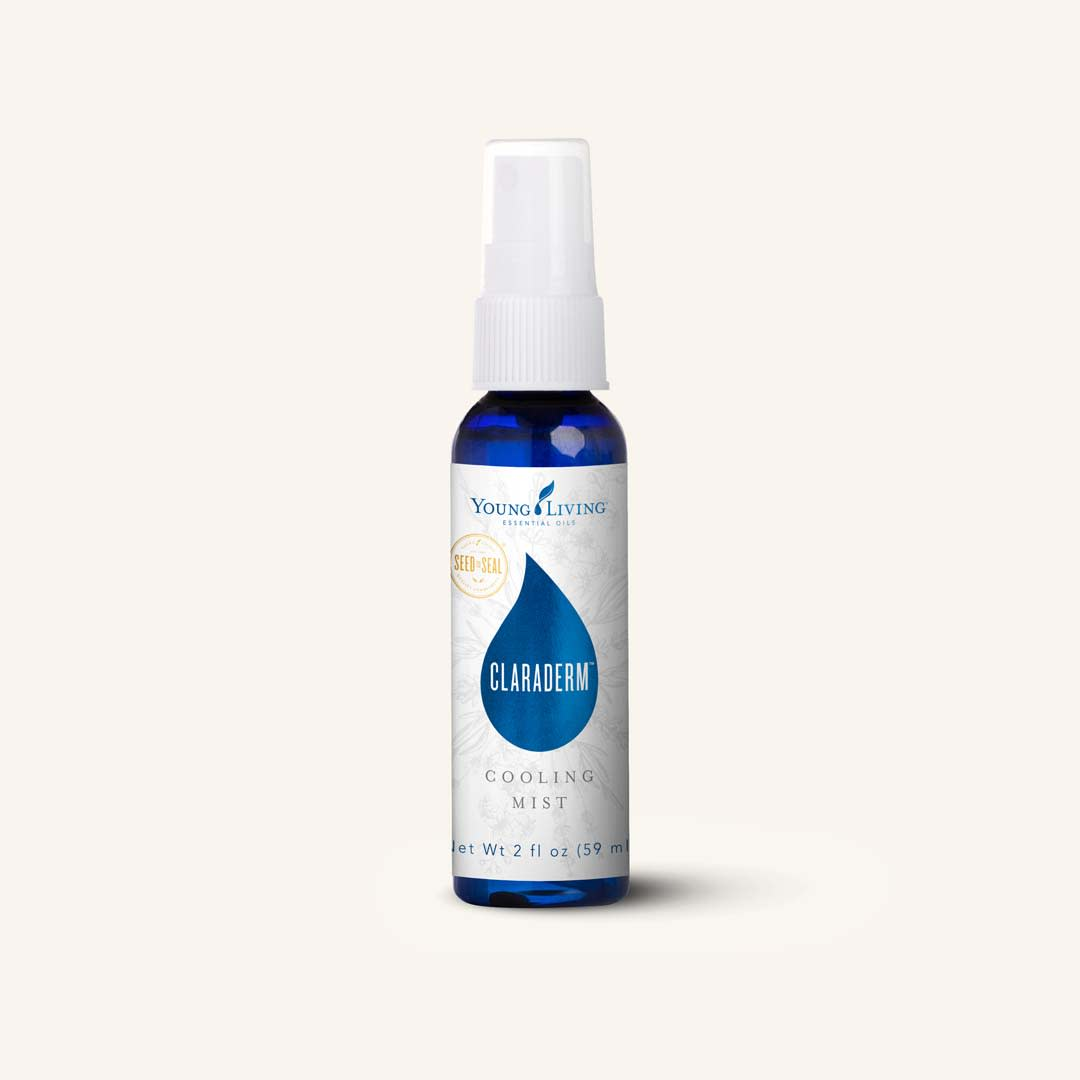 ClaraDerm™ Cooling Mist soothes and comforts dry, irritated skin. Its gentle blend of coconut oil and premium essential oils such as Lavender, Chamomile, Frankincense, and Myrrh combine to help calm and moisturize skin. Formulated without harmful ingredients, this spray delivers a fine mist that absorbs quickly and is gentle enough for all skin types.
DIRECTIONS: Apply topically as needed.
INGREDIENTS: Coconut Oil, Myrrh, Tea tree, Lavender, Frankincense, Roman chamomile, Helichrysum.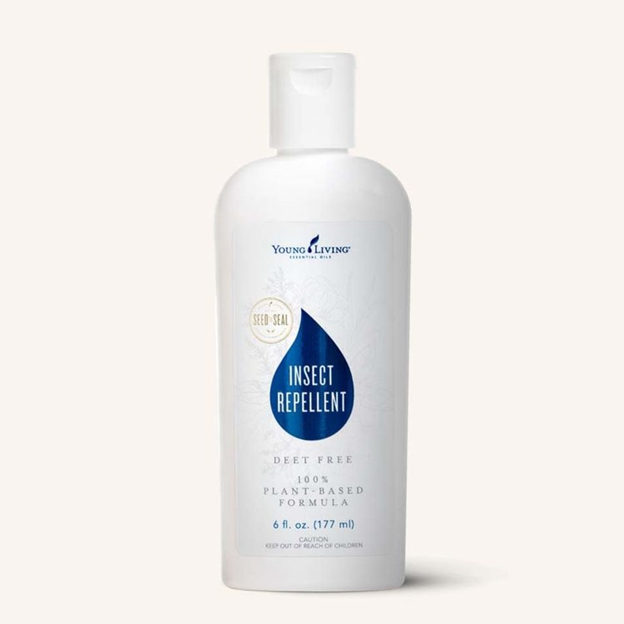 Made with 100 percent naturally derived, plant-based ingredients, Young Living's Insect Repellent is proven to repel mosquitoes, ticks, and fleas with 99 percent active ingredients, plus 1 percent vitamin E to moisturize and condition skin. The gentle formula rubs easily into skin without a greasy or sticky finish and is appropriate for use on children when used as directed.
DIRECTIONS: Dispense into hand and apply evenly over exposed skin. Reapply as needed. Avoid contact with clothing, as product can stain fabric. Apply before a picnic, hike, campout, or run to prevent bug bites.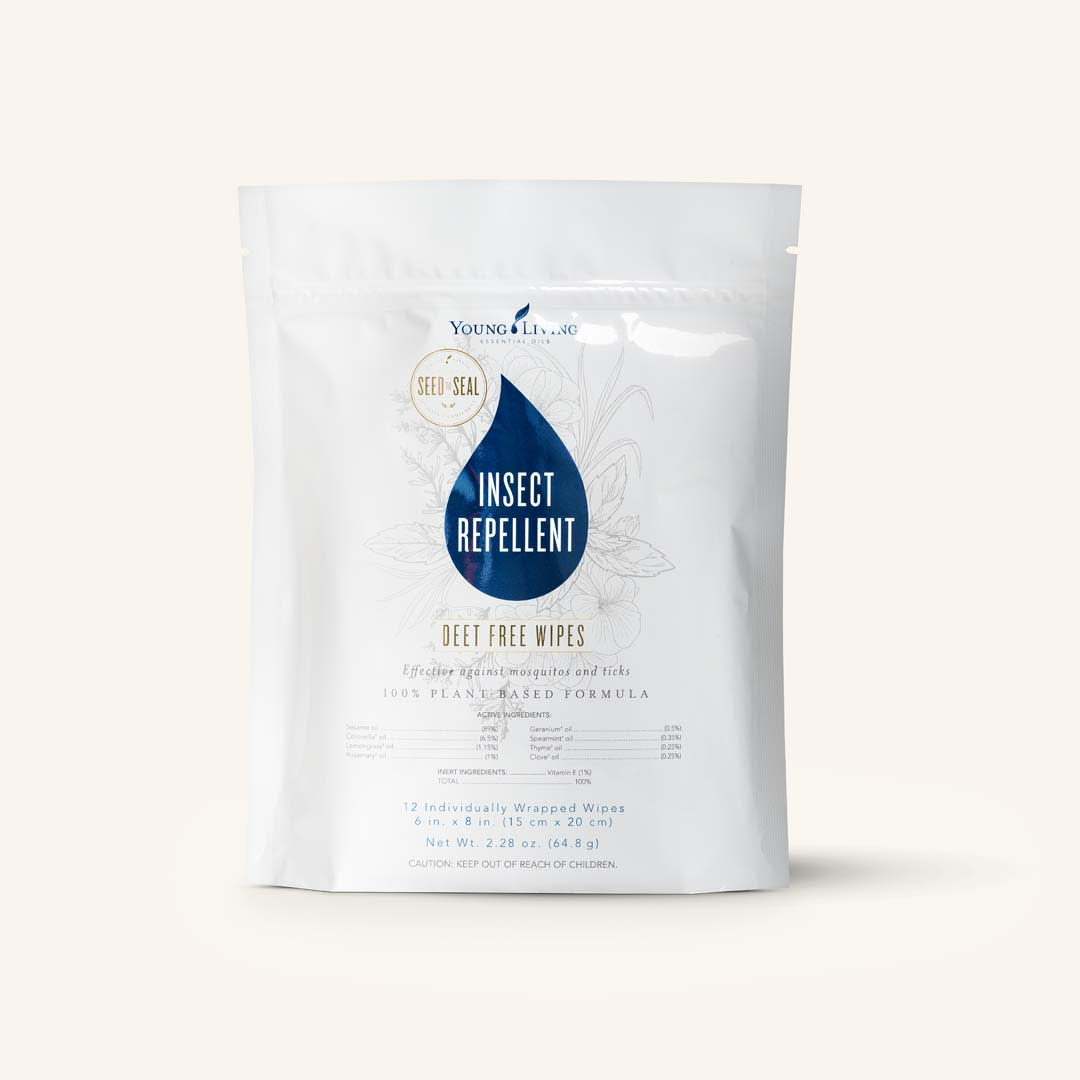 Insect Repellent Wipes from Young Living offer a natural, essential oil-infused alternative to traditional bug repellent that effectively prevents mosquito, flea, and tick bites with easy application.
DIRECTIONS: Wipe exposed skin with a single wipe for quick, effortless application. Reapply as needed. Avoid contact with clothing, as product can stain fabric.
INGREDIENTS: Sesame seed oil. Bug Repellent Blend: Citronella oil, Lemongrass oil, Rosemary oil, Geranium oil, Spearmint oil, Thyme oil, Clove oil. Mixed tocopherols

This is one of my favorite products for summer and for any time of the year. It cools me down and hydrates my skin. My face absolutely loves this product. This hydrosol is produced during the distillation of Young Living's luxurious Royal Hawaiian Sandalwood essential oil and has many of the same constituents in a lower concentration. It offers gentle hydration for skin in a convenient spray bottle for easy application.
DIRECTIONS: This pray is perfect for spritzing in areas that sweat and have a tendency to smell. Its soothing effects on the skin and earthy aroma make it a great go to in addition to applying deodorant. Keep out of eyes.
HOW TO ORDER . . .
Now that you have at least a few items to add to your summer skincare regiment, I'd like to help you get through the ordering process.
Already Have A YL Account:
Simply log into your account at
YoungLiving.com
by using your member number and password, place a shop order, or add products to your monthly Subscription order.
Don't Have An Account Yet:
Visit my personal YL promo link
HERE
. You can choose the products you desire, and upon checkout my member number (992365) will automatically be added so that we are connected within the company. I will be your go-to for support and product education.
https://www.myyl.com/alohabright
*Someone Else Referred You: If someone else who's a YL member referred you to this blog, please talk to them about how to order using their member number as your sponsor.