With all that is going on around these days we must find ways to protect ourselves and our family from viruses. We must find natural ways that we can use to sooth our anxiety and give us the time to relax and reboot. Giving us the free attention to bring harmony to those around us and to bring Joy and a Happy disposition too.
These are just a couple ideas I have had recently that I felt I could offer some suggestions to you that will make your home a haven for your family.
First of all I find that using natural ingredients in life can be excellent alternatives to the chemical based products that have side effects to our health. Most people are probably aware that many products we have used in the past before attention was given to natural solutions can be harmful to our immune system. Over time they can compromise the integrity of our well being.
Something that I do daily is to diffuse essential oils in my environment. If you do not know the science behind essential oils, I can simply say that the tiny molecules of an essential oil do pass into our blood stream via inhalation, or by application onto our skin, or via internal application. You need to know the Source of the oil and make sure that they have a Seed to Seal guarantee. Plus diffusing an oil makes your home smell fantastic. It changes the energy of a room and it changes the emotional state that you may be experiencing. I find that using essential oils give me the Salf Care that my body needs.
When we are home a lot of the time it is important to find ways to unwind, and bring a sense of calm and peace into our lives. Not just for yourself but also for your children and other family members. You will be pleasantly surprised to see how emotions will balance out with the right oil filling up those empty spaces. Take deeper breathes of these fragrant essences, this alone will help to relax you. Let the fragrance deep into your brain and thus moving into your whole body via the blood stream. An essential oil because the molecular structure is so tiny can pass beyond the blood brain barrier and into various parts of the brain. Thus making a significant difference to our emotional state.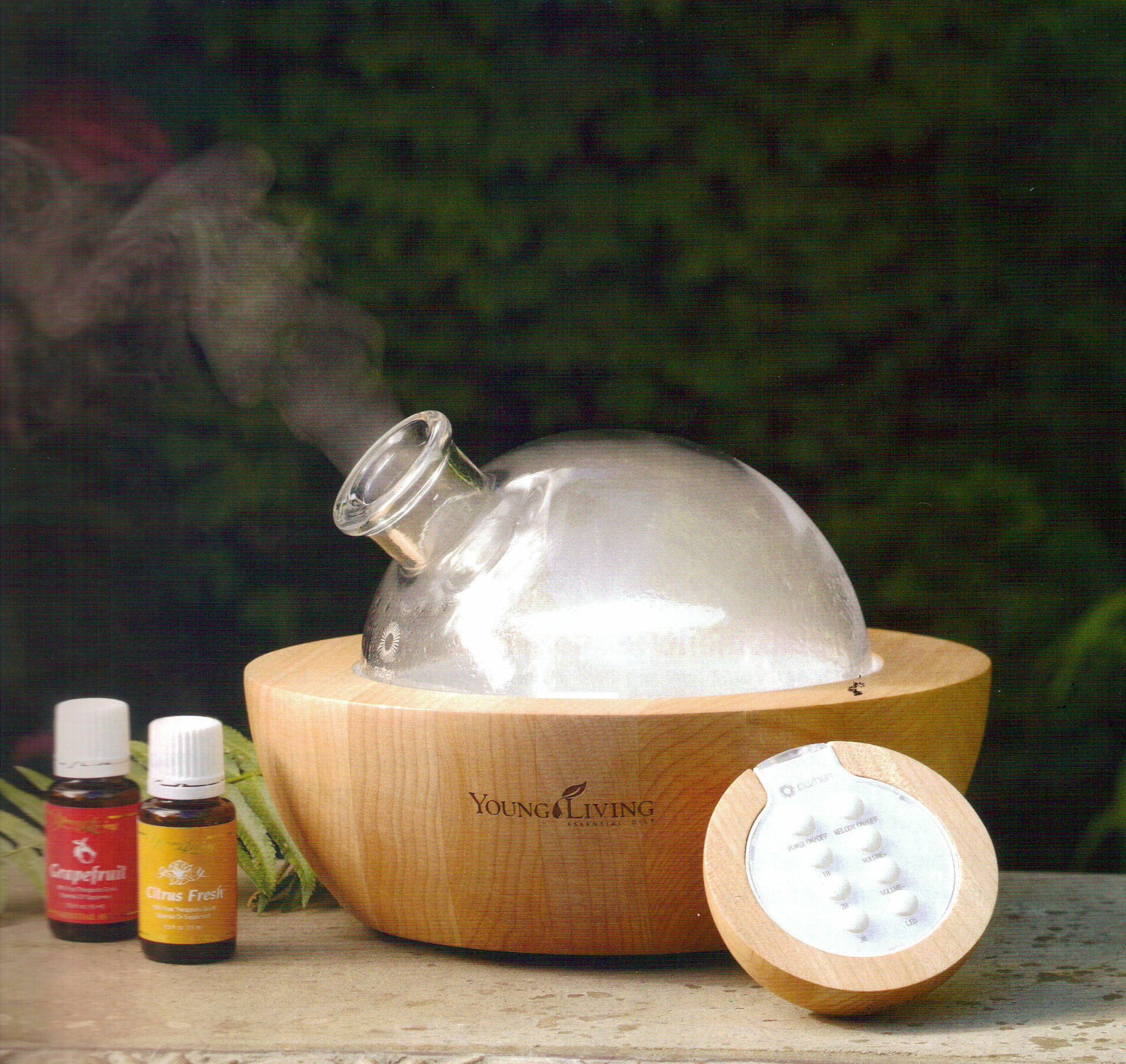 I have several diffusers throughout my home. And i use them all the time. I find them very effective And I also love to give foot rubs using essential oils too. This is something that your children will love. And your partner will too. Any essential oil that you apply to the feet takes only about 20 minutes to target the key area of the body.
You can add Vitality oils to your tea or smoothies to give extra flavor and to supplement well being.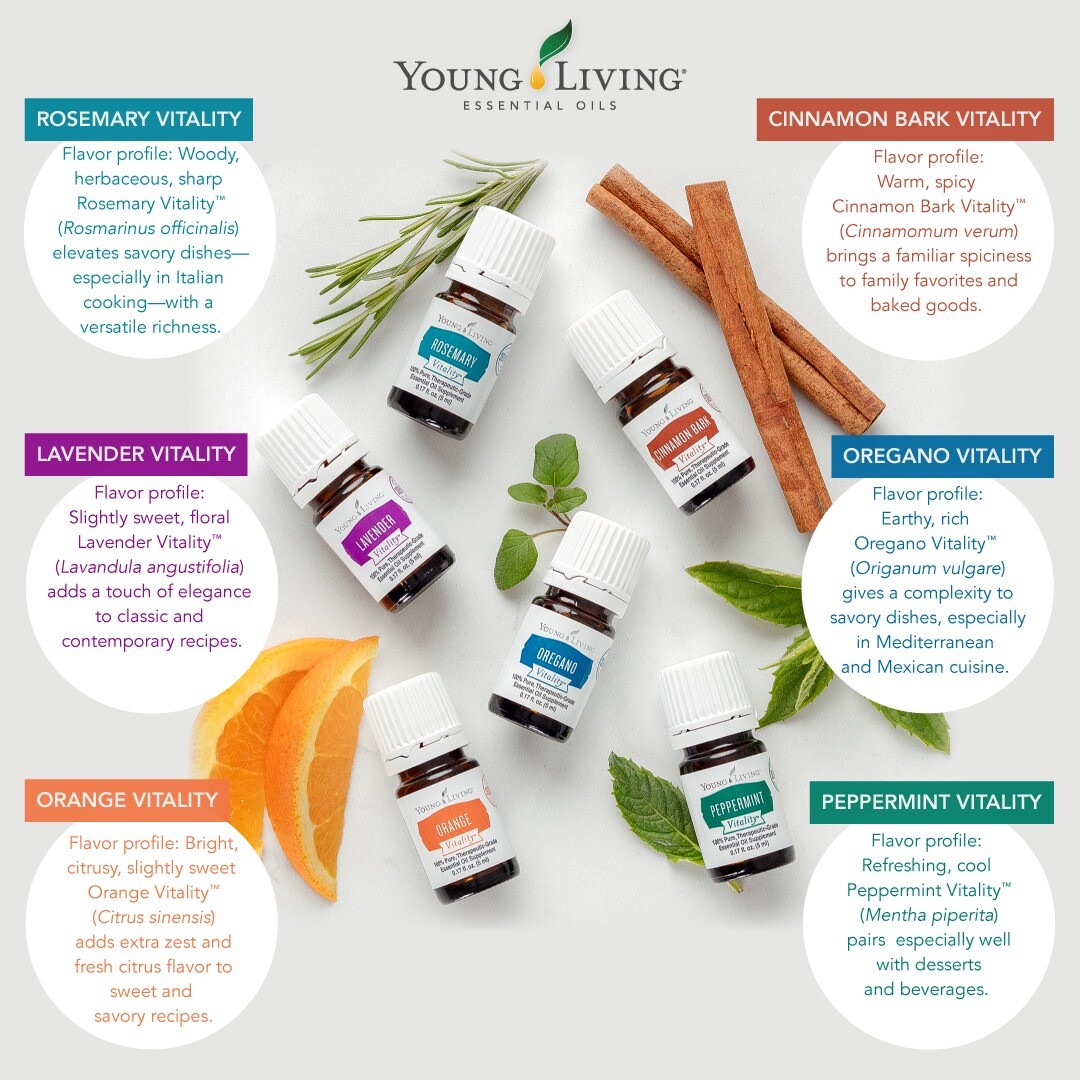 Whatever you decide to do remember that in these times we can support each other very simply with Love and Compassion.

Taking simple steps to boost your wellness can be your family's best defense in making sure you feel healthy all year long. You can keep your immune system thriving by making sure that your healthy habits don't create an additional toxic load. Be sure to choose wellness products that put you first—that means steering clear of harsh chemicals and toxins and getting an extra boost from the potent power of plants.

Make your health and wellness a priority by following these easy tips!
Get back to the basics
Regular hand washing makes spreading germs hard. It's just as important to keep hard surfaces clean. Make sure you're putting wellness first at home and on the go by simply washing up!

"Keeping hands clean is one of the most important steps we can take to avoid getting sick and spreading germs to others. Many diseases and conditions are spread by not washing hands with soap and clean running water." Centers for Disease Control and Prevention
1. Wash hands with soap for at least 20 seconds.
If you're keeping track, that's the "Happy Birthday" song from beginning to end twice. Be sure to lather and scrub the back of your hands, between fingers, and under your nails. Also, dry your hands thoroughly.

If soap and water are not readily available, use an alcohol-based hand sanitizer such as Thieves® Waterless Hand Sanitizer.
2. Cough or sneeze into your elbows and avoid touching your face, mouth, eyes, or nose.
If you must touch your face, make certain your hands are clean.
3. Spray down hard surfaces and frequently touched objects like shopping cart handles,
doorknobs, remotes, tables, and counters.
Remember: Preventive measures are your first line of defense to staying well!
Take it easy
Sometimes, despite your best efforts, you may still get sick. When you catch a bug, be intentional about taking care of yourself.
1. Diffuse Thieves® and R.C.™ throughout the day. These oils help provide comfort when
you're not feeling your best. You can also dilute and apply them to the bottoms of your feet
before bed or in the morning.
2. Keep hydrated! Make sure to drink plenty of water and fluids to help replace fluids, loosen
mucous, and aid in clearing congestion.
3. Rest and recover. Proper rest can help support your immune system's ability to fight
infection so you can get feeling better sooner. When possible, stay home. Unless seeking
medical care, avoid contact with others and going to work, school, or other public areas.
Take It Easy collection
With the Corona Virus here are some facts regarding how we can protect ourselves, which you may have already seen. Most important is to stay calm as fear usually surrounds this type of Virus and can be scarier than the facts. What I have seen so far is that Panic and fear only weakens your immune system. Slap on that lavender and take some deep breaths throughout you day. Diffuse calming oils especially at night and through the day if possible.
Stay protected
- wash your han
ds for at least 20 seconds, especially in public areas.
Wash your hands regularly with soap and water. This is one of the best ways your caregivers protect themselves from the spread of germs—

it will help protect you, too!

Remember to clean the 'webs' between fingers and thumbs.
Don't have access to soap and water? Use hand sanitizers.Thieves Hand sanitizers are great. The small bottles are OUT right now, but the large bottle is still available.
Avoid touching your face, particularly your eyes or nose, with your hands.
When you or your loved ones are sick—stay home from work and school to prevent infecting others.
Sneezing into tissues or your elbow are great ways to minimize spread of germs. Always wash your hands with soap and water after you sneeze.
Unless you are in the healthcare profession or caring for an ill family member or friend, always try to avoid others who are sick.



Keep your immune system strong!

....and here is where we have an advantage with YL essential oils.
When our bodies are free of interference, it has the ability to heal itself.
Essential oils work to synergistically bring the cells of our bodies into balance. And to elevate the frequencies of our bodies. Oregano Essential oil serves to protect our Immune system along with many other Young Living Products. Vitamin C, seaweeds, mushrooms, Probiotics, gut health all play an important role in strengthening our Immune system so that our body works together as a whole to protect and keep a strong Immune system.
Here are a variety of Young Living Products to support Immune Defense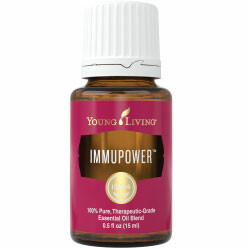 ImmuPower Essential Oil Blend
Ingredients: Hyssopus officinalis† (Hyssop) leaf oil, Satureja montana† (Mountain savory) oil, Cistus ladaniferus† (Cistus) oil, Cinnamomum camphora† (Camphor) leaf oil, Boswellia carterii† (Frankincense) oil, Origanum vulgare† (Oregano) oil, Eugenia caryophyllus† (Clove) bud oil, Cuminum cyminum† (Cumin) seed oil, Hyptis suaveolens† (Dorado azul) seed oil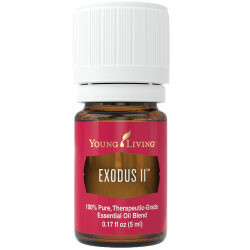 Exodus II Essential Oil Blend 5 ml
Ingredients: Olea europaea (Olive) fruit oil, Commiphora myrrha† (Myrrh) oil, Cinnamomum cassia† (Cassia) leaf oil, Cinnamomum zeylanicum† (Cinnamon) bark oil, Acorus calamus† (Calamus) root extract, Picea mariana† (Northern Lights Black spruce) leaf oil, Hyssopus officinalis† (Hyssop) leaf oil, Vetiveria zizanoides† (Vetiver) root oil, Boswellia carterii† (Frankincense) oil
†100% pure, therapeutic-grade essential oil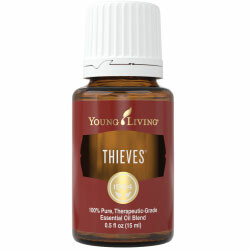 Thieves Essential Oil Blend 15 ml
Comes in a 5 ml bottle too Vitality line
Thieves® essential oil blend is a powerful combination of Clove, Lemon, Cinnamon Bark, Eucalyptus Radiata, and Rosemary essential oils that fills any space with a rich, spicy aroma. As one of our most popular products, it's no wonder that Thieves is included in so many of our home cleaning and personal care products. It is a key ingredient in Thieves Cleaner, Thieves Waterless Hand Purifier, Thieves Wipes, and Thieves Foaming Hand Soap. Thieves blend is your go-to for an invigoratingly clean and spicy scent that smells more like fall baking than harsh cleaning formulas.
Inner Defense 30 Softgels
Young Living's Inner Defense™ reinforces systemic defenses, creates unfriendly terrain for yeast/fungus, promotes healthy respiratory function, and contains potent essential oils like oregano, thyme, and Thieves® which are rich in thymol, carvacrol, and eugenol for immune support. The liquid softgels dissolve quickly for maximum results. Softgel capsule has been reformulated with fish gelatin to remove the need for carrageenan and bees wax used in the porcine gelatin based softgel.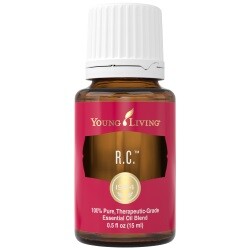 R.C. Essential Oil Blend 15 ml
Comes in a 5 ml. bottle also
R.C.™ Essential Oil is a powerful blend of Spruce, Cypress, and three types of Eucalyptus oils (E. globulus, E. radiata, and E. citriodora). Diffuse or apply it directly before, during, or after your workout. Its energetic aroma will help you stay motivated when you hit the weights, treadmill, or bike.
You can also combine Young Living R.C. oil with V-6 Vegetable Complex oil for an invigorating massage. This routine creates a relaxing spa-like experience and can even help when your day demands that you be out and about earlier than usual. Its robust scent will help you perk up as your day begins.
R.C. is also a great substitute for Aroma Siez in Young Living's Raindrop Technique.
R.C. Essential Oil Uses:
Rub on your chest and back of the neck before an early-morning workout.
Use with V-6 Vegetable Complex for a foot or back massage after your gym routine, outdoor adventure, or yoga practice.
Place a few drops in a hot bath or shower. The warm water will calm and soothe you, and the oil will diffuse with the steam for an invigorating and empowering experience.
Brighten your outlook during early-morning errands by applying R.C. oil to your chest and wrists.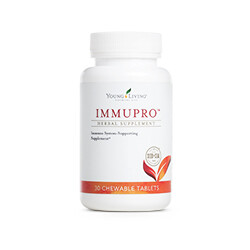 ImmuPro Chewable Tablets
ImmuPro™ has been specially formulated to provide exceptional immune system support when combined with a healthy lifestyle and adequate sleep to support the body's needs.*
This power-packed formula combines naturally-derived immune-supporting Ningxia wolfberry polysaccharides with a unique blend of reishi, maitake, and agaricus blazei mushroom powders to deliver powerful antioxidant activity to help reduce the damaging effects of oxidative stress from free radicals.*
ImmuPro provides zinc and selenium for proper immune function* along with other chelated minerals which emerging science suggests are more easily absorbed by the body. It also delivers melatonin which encourages restful sleep by promoting the body's natural sleep rhythm.*
With non-GMO dextrose instead of fructose and more Orange essential oil than ever, this formula delivers more of what you want and less of what you don't! This delicious fruit-flavored chewable supplement also has the same great wolfberry flavor but with a new crunchy texture.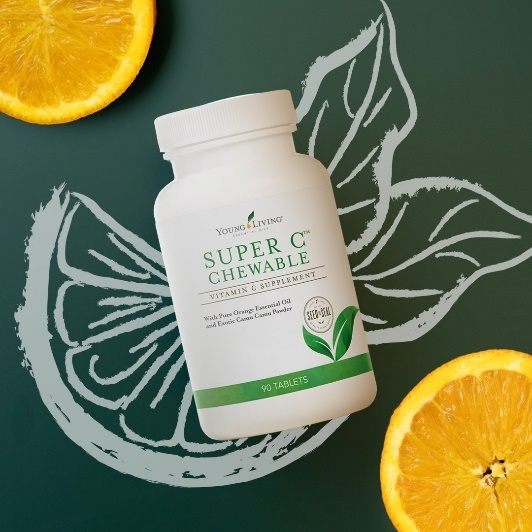 Chewable Super C
Super C combines pure Orange essential oil with a proprietary blend of camu camu, acerola, cherry, and rose hips fruit powder to create a powerful immune-supporting supplement. Together, these premium ingredients deliver desirable polyphenols, carotenoids, and optimal amounts of vitamin C in a convenient chewable tablet.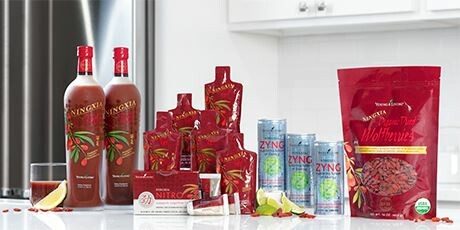 Ningxia Red Juice
750-ml bottles of NingXia Red
For more than 700 years, the northwest region of China knows Ningxia has earned a reputation for producing and cultivating premium wolfberries. Also known as goji berries, wolfberries have a rich nutritional profile that can benefit many. In addition to using this powerful superfruit in our popular nutritional and delicious drink, NingXia Red®, we offer an entire line of drinks and snack foods made with our signature Ningxia wolfberries to help you live a healthy lifestyle.
Premium NingXia Red ingredients include juices and extracts from superfruits such as aronia, plum, blueberry, and pomegranate, plus a whole-fruit puree of exotic wolfberries. This delicious supplement packs a big punch, offering NingXia Red benefits that include support for normal eye health, cellular function, and energy levels.
Add a daily shot of NingXia Red® to your diet to enjoy the benefits of this powerful, whole-body supplement. This sweet and tangy drink's formula includes wolfberry, which is touted for its health benefits. Also featuring plum, aronia, cherry, blueberry, and pomegranate juices and extracts, Young Living's NingXia Red is packed with superfoods to support overall wellness.
In addition to these antioxidant ingredients, NingXia Red's formula includes pure vanilla extract and Lemon, Orange, Yuzu, and Tangerine essential oils for a great-tasting, healthy treat.*
Young Living NingXia Red benefits include support for energy levels, normal cellular function, and whole-body and normal eye health. A daily shot of 2–4 ounces helps support overall wellness with powerful antioxidants.*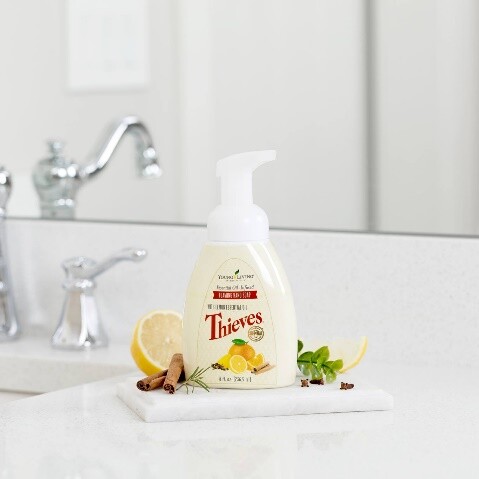 Thieves Foaming Hand Soap
Thieves Foaming Hand Soap lets you pump, rinse, and get on your way without harsh, drying detergents. With a plant-based, instant-foam formula, skin is left feeling clean and refreshed but never over-dried. Plus, you'll love the lingering citrus-spice aroma of our proprietary Thieves blend of Clove, Lemon, Cinnamon Bark, Eucalyptus Radiata, and Rosemary.
Includes enough solution for approximately four refills of your 8-ounce Thieves Foaming Hand Soap bottle

Combines Thieves, Lemon, and Orange essential oils with other naturally derived ingredients to clean hands

Instant foam makes it easy to lather and rinse

Leaves skin soft and clean with a light Thieves scent

Delivers a gentle clean for the whole family

Formulated with naturally derived, plant-based ingredients

Works as a gentle and effective alternative to commercial hand soaps
KEY INGREDIENTS

Natural non-ionic surfactants (cocamidopropyl hydroxysultaine, decyl glucoside)

Denatured alcohol

Aloe

Ginkgo biloba

Tea plant extract

Thieves essential oil blend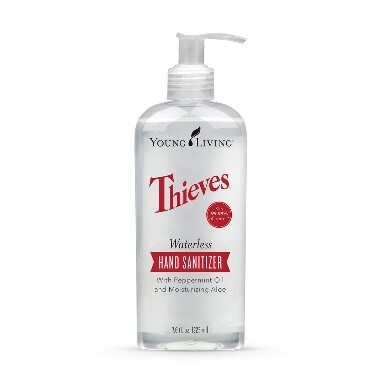 Thieves Hand Sanitizer 7.6 oz
Kick 99.99 percent of germs to the curb!
Get clean hands anytime, anywhere with Thieves® Waterless Hand Sanitizer. Small enough to fit in your purse or travel bag but big enough to share, this germ-fighting solution is great for the whole family. Infused with soothing aloe vera gel and the cleansing properties of 100 percent pure Thieves® blend and Peppermint essential oil, Thieves Hand Sanitizer effectively eliminates common, harmful germs and bacteria. As a bonus, this lightweight formula leaves hands soft and smells divine.
Products containing Oregano Essential Oil
Active & Fit Kit 5502
Cool Azul Essential Oil Blend 15 ml 5399
Cool Azul Sports Gel 5436
Core Supplement Kit
ImmuPower Essential Oil Blend 15 ml
Journey On Essential Oil Blend 5ml Wholesale
When D. Gary Young formulated an oil blend, he did it for a purpose. When he selected the oils for Journey On™—originally developed for the World Peace Caravan—he was about to embark on a journey to unite others in bringing peace to the world. Now Young Living and the Young family are pleased to share Journey On as a commemorative oil blend to honor Gary's life, his vision for peace and unity, and his passion for essential oils.
This inspiring aroma is herbaceous and earthy and includes a careful selection of powerful oil blends, including Dream Catcher™, ImmuPower™, and Motivation™, along with Copaiba, Cinnamon Bark, and Peppermint essential oils. Its beautiful, grounding aroma is meant to inspire people everywhere to celebrate what makes us unique and show greater understanding and compassion for one another. Use this inspired blend to be motivated in your personal journey toward whole-life wellness.
As we remember Gary, we recall his mission to educate the world about essential oils and to ultimately transform our world into a peaceful, well society. The purpose of the caravan continues as we identify our own personal journeys, bring joy and harmony into our own lives, and share that peace and purpose with others.
Let Journey On be a daily reminder of Gary's vision and impact in your life as you create a sense of personal peace and spirituality. Embrace Gary's legacy and take your journey on.
Master Formula 5292
Oregano Essential Oil 15 ml
Oregano Vitality 5ml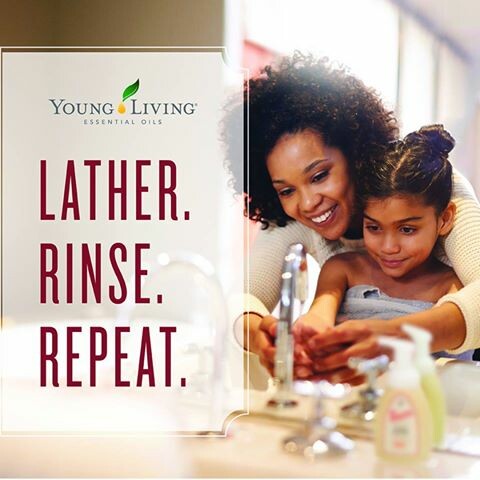 Important to wash hands frequently to prevent exposure. Thieves Foaming Hand Soap is perfect to have on hand. Infact good to have several bottles in your home. One at each sink.
Wash your hands often with soap and water for at least 20 seconds, especially after going to the bathroom; before eating; and after blowing your nose, coughing, or sneezing.
If soap and water are not readily available, use an alcohol-based hand sanitizer with at least 60% alcohol. Always wash hands with soap and water if hands are visibly dirty.